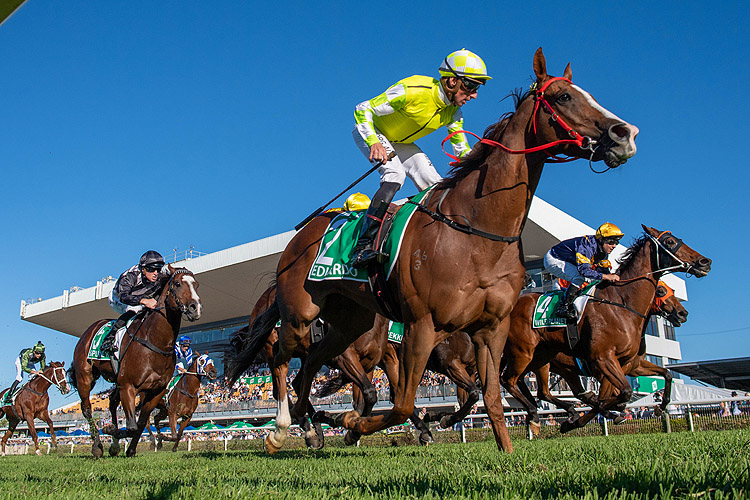 'Pace makes the race' said Pittsburgh Phil. Or maybe he didn't. It may well have been Sartin, or Beyer, or Brohamer. Someone said it, and when they did they hit on a fundamental truth of horse racing, one that often seems to be hiding in plain view, and one that Eduardo used to good effect to land Saturday's Doomben 10,000 despite racing well below his best.
Eduardo returned a Timeform rating of 119 at Doomben, well short of the 124 and 125 he recorded winning the Challenge and Galaxy back in March, but he got away with one because of his early pace.
Early pace is Eduardo's one wood. Like a Rory McIlroy, Dustin Johnson or a Bryson Dechambeau, Eduardo is able to get a headstart on the field from the tee box that can offset deficiencies elsewhere.
Eduardo's putter was running cold on Saturday. Lesser horses (albeit very good ones) Wild Planet and The Harrovian were cutting down fine margins on the line. The first five home were covered by less than 1/6th of a second and Eduardo's late splits showed him curling up.
But Eduardo was better positioned off the tee than that fast-closing pair. Draining big putts makes the highlights packages but isn't sustainable. Luck trumps skill when it comes to the putter - strokes gained putting varies much more week-to-week than strokes gained off the tee.
The same applies in racing. Those that get back and flash home in fast late splits make the highlight reels when they drop but it is the horses making their own pace, getting into positive positions off the tee, that best convert effort into wins.
This was not the Eduardo we saw fending off Nature Strip in The Challenge, or blitzing the Galaxy field by the biggest margin in that fiercly competitive sprint since Snippets in 1988, but he was still able to convert a good performance into an important win, his fourth of the season and his second at the top level. And that must bring him into the (perhaps not so all important) reckoning for Horse Of The Year.
Three sprinters have produced higher-rated performances than Eduardo this season - Nature Strip (rated 129), Classique Legend (128) and Bivouac (128) - but, as we have often said in these recaps, horses are better judged on more than just a single peak performance. Horses are an array of performances and achievements.
That Galaxy blitz, which probably didn't get the plaudits it deserved, must go a long way to ticking the performance box for Eduardo. It may be an arbitrary point, but 125 on Timeform's scale is a fairly good standard setter for the label 'Group One horse'.
Those four sprinters are the only Australian-trained horses to hit that threshold this season so far. If we allow 4lbs for the allowance mares get on race day then Verry Elleegant, Probabeel (she's ours, don't listen to the Kiwis...) and Arcadia Queen also hit that mark.
With two Group Ones now in the bag, Eduardo matches all bar Verry Elleegant from this subset and only Verry Elleegant and Probabeel have as many total wins than Eduardo.
Outside of the sprinters, five Group Ones, which include the ripping down of a Derby winner and a Champion Stakes winner, leave Verry Elleegant a fairly clear cut division leader. Arcadia Queen had the talent to match on the fleeting days that she was happy and healthy, and her burst to down Russian Camelot in the Caulfield Stakes was one of the season's special moments, but season-long achievement makes it a landslide to Verry Elleegant.
But this is a sprinting nation, and being a clear-cut champion of the Australian middle-distance division is easier to achieve than it is in the sprinting division. Just ask the British pundits. And then ask them why, given their assumed dominance, just two of the 17 horses to race in Australia with the title 'British G1 winner' have been able to replicate that feat at the top level here? A strike rate shy of 12% when Australian G1 winners have matched that achievement in Britain at 37.5% from 40 in that timespan. But I digress....
There are four real 'Championship' sprints in Australia nowdays (at least in the view of the author...) with that 'Big Four' made up of The Everest, The VRC Classic, The Lightning and The TJ Smith.
These races invariably decide who is the best sprinter in the land of sprinters. Eduardo won none of them, and was beaten in the two that he contested. Nature Strip didn't turn up in the spring, but he came back with a vengeance to win the two Championships sprints in the second half of the season, and there is little doubt that his best is the best around at the moment.
Around the grounds on Saturday;
Savatoxl ran to Timeform rating of 116 winning the Goodwood. More Despatch than Santa Ana Lane in terms of recent Goodwood winners.
Realm Of Flowers ran to 110+ winning the Ramsden in good overall time. She finished full of running and clearly relished a true staying test. The changes to the Ramsden, making it a win-and-you're-in for the Melbourne Cup, have worked, with a 4+ length upswing in quality across the three editions to date.
Lost And Running was the headline horse at Rosehill, running to 114 and sparking plenty of hype. Hype way beyond what he has achieved to this point but, as trainer John O'Shea has been quick to point out, good horses all have to start somewhere. Lost And Running is rated 114 after seven starts. Eduardo was rated 112.