Let's get the superlatives out of the way at the top. Zaaki was brilliant on the weekend. He slammed the Doomben Cup field to the tune of seven lengths, the sort of margins reserved for superstars, and looked imperious in doing so - oooffff it hit right in the feel centre.
A rating of 126 is the best in the Doomben Cup for 22 years, matching Intergaze who put up the same number winning in 1999, a year on from running second to Might And Power who ran to 128 (slightly disappointing by his standards. He had run to 133 in the Hollindale) which is the highest rating going back to at least 1980.
It's far and away the biggest winning margin in that 42-year span, claiming that honour from Doomben Cup-hero Rough Habit who won by 4.3 lengths (and also posted a 126 rating) when winning the first of his three in 1991.
It looked good, it felt good, and it was good. Nice. Now lets pop our racing-lovin' hearts away for a second and take in the view from the other side. The side from which the devil advocates...
Following Might And Power and Intergaze, right back at the turn of the century, the Doomben Cup has been rubbish. The 21 winners between Intergaze and Zaaki have come back the next season to win a grand total of five Group races between them. Three of those came at Group One level.
Ivanhowe won a Ranvet (after four unplaced runs in the spring), Scenic Shot won a Mackinnon (beating Miss Maren...) and Perlin won an Underwood, leading all the way to beat Our Smoking Joe and Just A Tad in up to their knees on a rain-soaked Caulfield.
Bayesian brain engaged; our prior view of the Doomben Cup as a pointer towards the spring, and in particular the Cox Plate (for which Zaaki is now being widely touted), is fairly low. It's going to take a big and convincing piece of information to shift that view.
A seven-length romp backed up by a speed figure north of 120 certainly has the look and feel of a convincing piece of information. Slap a big number on it and declare it set it stone! Alas, it can't be so simple. There's plenty of noise around the latent variable we call a rating, especially when the margins are so wide.
We've spoken in this blog in the past about a rating essentially being a point estimate that best describes the result(s) in front of us. This could also be described as finding the solution that is least wrong or, in stat language, minimising the mean squared error.
Zaaki is a 6yo gelding who went into the Doomben Cup a veteran of 24 starts. The pick of them in the UK rated 119+. Since arriving in Australia things have clearly gone the right way with his ratings down under reading 112+-117-121+ going into Saturday.
Given that, the expected value for him in the Doomben Cup would/should have been somewhere around 121. The others with ratings in the 120s were Sir Dragonet and Mugatoo. Both pulled up with issues and ran no sort of race, leaving Toffee Tongue, Brandenburg and Nettoyer with the (overwhelming) task of chasing Zaaki home with peak ratings of just 113-114-113 respectively.
We can use those expected values (113-114-113) from our principal chances to calculate the mean squared error for all plausible winning ratings for Zaaki. Anywhere between Zaaki's prior rating of 121 and up towards 130 would be plausible and it is between 126 and 127 where the error is smallest.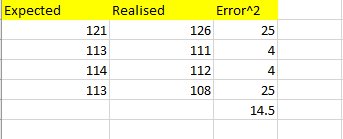 We square the error between the expected rating and the realised rating and average the errors to get our mean squared error. The lower the MSE the less wrong the rating. Above we see an MSE of 14.5. Below we try for a rating of 130 for Zaaki but find it less plausible with a MSE of 22.5.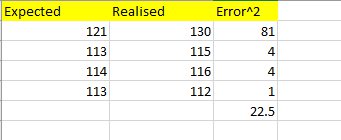 A rating of 126 is the best by an Australian-trained horse this season outside the sprinting division, though that does Verry Ellegant a disservice.
The point we have long made in these pages - and did again last week which you can read here - is that horses are better judged on more than just a single peak performance.
Horses should be judged on an array of performances and achievements.
Another interesting point to make at this stage is that a lot of ratings are calculated on the assumption that all lengths are created equal. This is easily assumed but it doesn't quite work that way. I suspect if you studied those successful at playing the racing game you would find the vast majority are empiricists while the rationalists are left penniless. What does work is far more important than what sounds like it should.
Length six to seven between Zaaki and Toffee Tongue on Saturday is not worth as much as length zero to one between Verry Elleegant and Addeybb in the Ranvet. We can know this by studying results. It can be allowed for and should be allowed for because it works.
Zaaki's win was a sight to behold and something to be enjoyed but, emotions on mute and Bayesian brain engaged, it's too great a departure from prior results to declare a horse beaten by Paths Of Glory just a month ago the heir apparent to Might And Power.
A worthy rival for Verry Elleegant at the top of our - rather shaky - middle-distance tree is praise enough for now.