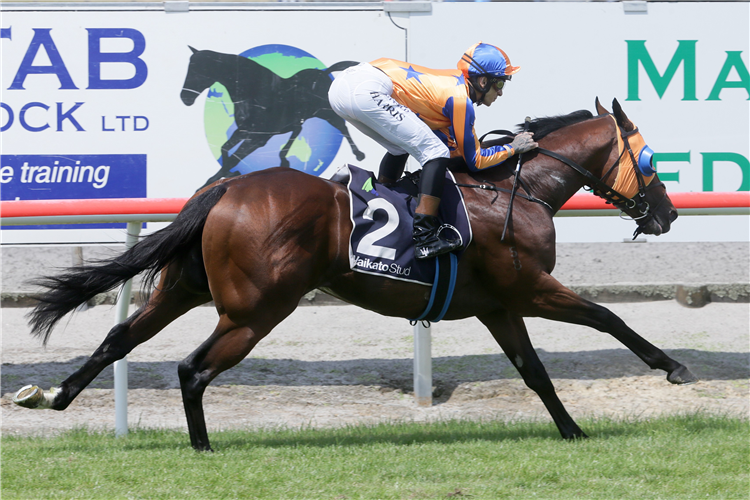 Barring eleventh-hour heroics from a place unknown and unlikely, Sword Of State will finish the 2020/21 season as the top-rated juvenile in New Zealand.
That alone is hardly a big statement about a horse that won the Matamata Slipper and the Diamond at Ellerslie by an accumulative 10 lengths. But that he does so with a rating of 115p adds some granduer - a rating of 115 hasn't been bettered by a juvenile in New Zealand in the past 15 years.
It has been matched; Ruud Awakening ran to 115 with a thrashing of Bounding in Ellerslie's Diamond of 2013, but she never won again, leaving the smart Bounding to go on and show off the form. Seven editions since have been slower - both gross and net - with Sword Of State's 1:09.5 a quick time before and after considering the conditions under which it was produced.
Perhaps the most impressive part of the Ellerslie performance was that Sword Of State showed a change of pace. 36.4 seconds to halfway was followed by 33.15 home. Explosive, even allowing for the standing start.
The stopwatch-carrying time disciples were already praying at the altar of Sword Of State prior to Ellerslie.
That change of pace at Ellerslie was pretty, like a boxer weaving and jabbing through 10 rounds to win on points untouched, but Matamata was brute force. It was haymakers from the outset with stablemate On The Bubbles, good enough to be New Zealand's Champion Two-Year-Old in almost any other year, left to cop the brunt of it.
The time differences between the Matamata Slipper and the Breeders for the fillies on the same card across recent years are fairly illustrative:
2021: -1.6 seconds
2020: -0.86
2019: -0.50
2018: -0.47
2017: -0.25
The Slipper is typically faster than the Breeders. That is logical and bears out in both the ratings and the subsequent performances of the winners. But where typical might be around half a second this year eclipses that by more than 3x.
All this leads to a two-year-old table that looks as follows:

Sword Of State's achievement isn't just equine, with trainer Jamie Richards deserving his share of praise for training not only Sword Of State but four of the five two-year-olds in New Zealand rated higher than 100.
Of trainers worldwide with a signficant number of runners, none strike with the efficiency of Richards in Group races and it is some achievement that he has now trained the Champion Two-Year-Old in New Zealand across the past three seasons.
That followed three on the bounce for Stephen Autridge, the last couple being Melody Belle and Avantage who have since broken records for Richards.
That sextet viewed with their peak two-year-old rating - Sword Of State (rated 115), Cool Aza Beel (107), Probabeel (108), Avantage (112), Melody Belle (110), Heroic Valour (107) - highlights what Sword Of State has achieved in season 2020/21 and just how promising he is for the season ahead.