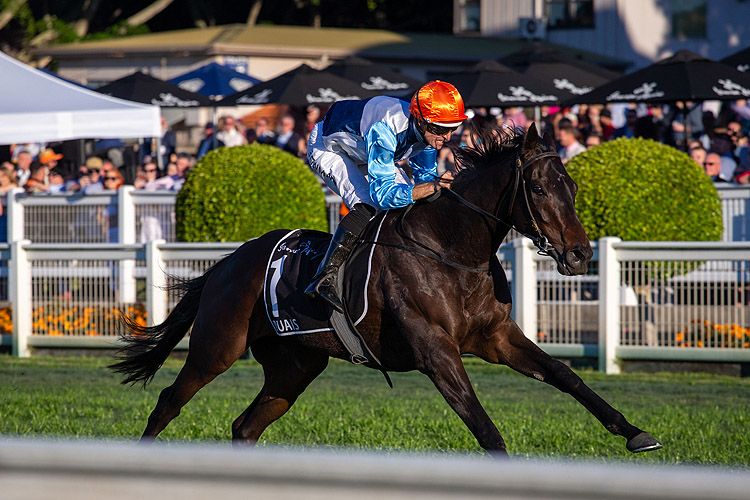 The final Group One for the three-year-olds, the Queensland Oaks, was won impressively by Duais, handing Ed Cummings his first winner at the top level.
Burdens and blessings often overlap. The Cummings name is as big (or bigger) than any other in Australian racing. It can open doors but through those doors waits expectation.
It was never going to be enough for Gary Ablett Jr to be a good footballer. He had to be better than that. Likewise, training well and optimising some nice horses is never going to be enough for Ed Cummings. Rightly or wrongly, he is going to be compared with his grandfather Bart, who smashed in 266 Group One winners before winning a couple with Ed's brother James. James has since knocked in 25 of his own and father Anthony has won 20.
Big shoes! And the only way to fill them is to start with one. Now Ed has done that and will surely be pleased that it came on the back of a noteworthy bit of horse training.
Duais isn't a million-dollar daughter of Snitzel or I Am Invincible. No simple case of get 'em fit and let 'em rip. Duais needed to be brought along and taught her craft. Her first six runs netted a maiden win at Newcastle rated 82 but a rating of 93 at Hawkesbury showed promise. A 50-day break between runs was followed with a 98-rated win at Warwick Farm. Ed had cracked the code! And away she went.
104 with a bullet winning the Adrian Knox, 110 when runner up in the Australian Oaks just seven days later and then 110 again at Eagle Farm, this time off seven weeks. Versatile and adaptable. Horse and trainer.
It might be at an all together different level, but it is hard not to peek across to the home of the Oaks, Epsom, where Snowfall won the Classic - of which all other Oaks are mere replicas - by the widest margin in a history that dates back to 1779.
Aidan O'Brien has won the past two Oaks by a combined 25 lengths! There can be no doubt that the Master Of Ballydoyle is as good at preparing staying fillies as any that have ever trained. And how has he done it? By racing them!
All horses are different of course, but horses, like all athletes, thrive on competition. They learn a great deal more racing than they do standing in a paddock.
Love ran seven times in her two-year-old season, as did Snowfall. Snowfall ran seven times for just one 85-rated win. Sounds familiar! It seems Ed has taken a leaf out of the playbook of another famous racing family.
Snowfall is rated 122+, a fair way up the ladder from Duais, but there are clues that Duais might be a bit better than her 110 rating. She was left to do too much running too late on in the Australian Oaks at Randwick where her late splits suggested that she could have been more than a match for the 113-rated winner Hungry Heart on another day.
But she will have to wait until another day to prove it. As it stands Duais sits 11th on Timeform's list of three-year-old fillies for the season. A list that looks a little bit like this: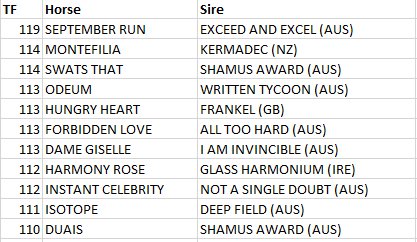 A rating of 110 is better than the typical Queensland Oaks winner, and better than all bar five to have won the race since Ethereal kicked the century off with a bang. Ethereal, Winx and Scarlett Lady all ran to 115 in the Queensland Oaks and all improved on that the following season. But Winx and Ethereal are joined only by Eskimo Queen (ran to 113 winning in 2007) as fillies that were able to come back and win an Australian Group One at four having contested the Queensland Oaks.
There are a few that won Group Ones in New Zealand but (let's assume no Kiwis are reading this and we don't have to be polite...) they hardly count.
310 fillies for three Group One winners is just shy of 1%. It is 16% of winners though, and Duais was a good winner. Glass half full.
It also takes a bit of a glass half full approach to like what we have seen from the three-year-olds overall this season. Our list of top fillies includes Instant Celebrity who is the lone three-year-old to win a full share of a Group One against the older horses this season.
Portland Sky halved the Oakleigh Plate and so, with just the Stradbroke and the Tiara left to run, the current three-year-old crop is left staring down the barrel of being the worst crop on record by that measure.
Just 1.5 Group One wins against their elders is way down on the 10-year average of five. The average from the 10 years prior was over seven. More options, more cotton wool, nowadays.
This crop will be hoping that an Apache Chase or an Odeum can spare them blushes in the final two Group Ones of the season and drag them over the top of the 2014/15 crop which won just two Group Ones against their elders.
That 2014/15 crop was headed by the 126-rated Brazen Beau. A 126-rated Champion is the average across 20 years with a tight range - the lowest rated Champion three-year-old having been rated 124.
We're almost no chance of having a three-year-old rated 124 this year with Rothfire in line to be crowned Timeform's Champion three-year-old with a rating of 122.
Rothfire put that rating up all the way back in September and no three-year-old has been fast enough to knock it off since. Perhaps there is talent out there somewhere, just waiting to be unlocked by a clever trainer with a famous last name.