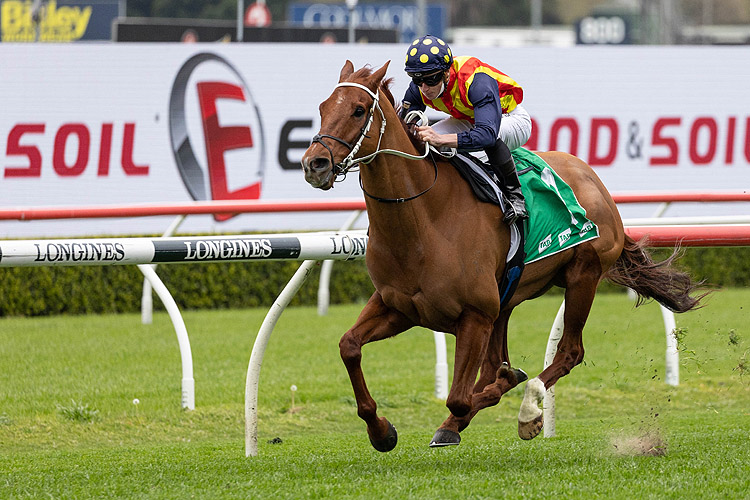 There were no Group One races in Australia on Saturday (rare) but there was a Group One performance (even rarer).
That came courtesy of the best horse in the land, Nature Strip, who ran to a Timeform rating of 127 winning the Concorde Stakes - the best in the history of the race, taking down Redzel in 2019 and Final Card in 1992 for that honour.
Here we label 'Group One performance' any run rated 125 or higher; an arbitrary figure but one fit for purpose.
As for rare, only Addeybb, Eduardo and Zaaki have crossed that threshold (plus Verry Elleegant and Probabeel when we consider the mares more fairly) outside of Nature Strip in Australia in 2021. Nature Strip has done it three times.
Nature Strip was turned over in the Concorde last year, a rating of 117 not good enough to hold out Gytrash, and he didn't better that effort in three subsequent spring runs - two of them behind genuine Group One performances from Classique Legend and Bivouac.
At that point, his claim to being the best horse in the land, and the best sprinter in the world, was gone. But in 2021 Nature Strip has come roaring back, winning three from four (two in proper Group Ones) and producing ratings of 126-124-129-127.
He now is the best horse in Australia and the best sprinter on earth. Perhaps the Americans would throw up dirt monsters Gamine and/or Jackie's Warrior as alternatives but on turf there can be little dispute.
Starman, Oxted and Dream Of Dreams are all rated up around 125 in the UK and the French filly Suesa is also rated 125. She has a stack of talent but, as we have been banging out forever in these pages, horses are best judged on more than just single performances and Suesa has nothing like the array of ratings that Nature Strip does.
(As an aside, Suesa has a better array of ratings than most English would credit her for. English racing is steeped in tradition and one of those great traditions is to pretend that foreign horses improve sharply for having raced on British soil.)
This seems the right time to move on to Zaaki, who has improved sharply for having raced on Australian soil.
We covered Zaaki after his Doomben Cup win - which you can read here - and that view has hardly changed.
Zaaki, the son of a Brazilian sire, ridden by a champion Kiwi jockey and trained by an Englishwoman in Sydney (a horse of the world who still manages to fire up the blood of the equine patriots...) ran to 124 winning the Tramway on Saturday, just shy of his 126-rated peak from Queensland over the winter and 4lbs higher than he was rated in Timeform's Racehorses of 2019. Perhaps 'improved a bit' fits better than 'improved sharply'.
To know (or at least make a well-informed estimate of) how much Zaaki has improved is not particularly complicated. Having measured him in his homeland, we now measure how fast he has run on Australian racecourses, as we have done for countless other horses from around the world. With each instance our confidence in the estimate grows - it is statistical inference.
It is hard to escape the conclusion that Zaaki has improved. Why or how is hard to answer but so is the alternate question; if Zaaki hasn't improved then why have so many other horses (many of them held in higher regard) from around the world not run as fast as him here?
So there isn't much doubt that he has improved but there must be some doubt as to how much clubbing Group Three handicappers is really worth.
In the Tramway, Aramayo, an Australian horse from British bloodlines, who won a pair of Group Ones in Singapore, running for a trainer and jockey from New Zealand, was closing the margin down on the line having been left with plenty to do. The margin was decisive, and James McDonald was kind to Zaaki in the run home, but against the clock he wasn't much more impressive than Think It Over; something of a home-grown Zaaki.
Older gelding Zaaki has improved 6lbs in 2021 to much fanfare. Older gelding Think It Over has gone from 110 to 120 in that time - to relatively little fanfare.
Improvement of 10lbs, three Group wins including the Ryder, and a rating of 118 on Saturday says he may not be done just yet. Zaaki is the better performed horse but Think It Over, a horse beaten in a string of handicaps off marks of 58, 60, 67 and 85, seems no less remarkable in his transformation.
In an essay following his famous book, The Black Swan, Nassim Taleb states, "You cannot doubt everything and function; you cannot believe everything and survive."
Regardless of how and why, and our imperfect understanding of that, Zaaki has improved and won four of his six starts in Australia impressively. We don't doubt that, but do we believe the hype that now has him priced inside 2/1 in a Cox Plate where he will take on all together different opposition?
If we were to believe that he hasn't improved an inch, then Gold Trip, fourth in the Arc and arguably unlucky not to have won a pair of Group Ones in France this year, must be at least his equal based on their European exploits.
The here-and-now factor is valuable, but valuable enough to see Zaaki is priced up around 4x as likely as Gold Trip in early markets?
Zaaki is now priced up as more than 3x as likely as Verry Elleegant in Cox Plate markets. Again, the here-and-now matters, and Zaaki's 124 on Saturday is better than Verry Elleegant's 113-rated return, but horses are more than just one run, one rating.
Horses are an array of ratings and achievements. Verry Elleegant has achieved plenty and stared down bigger dogs than Zaaki.