Type atleast three letters to find.
Australia - WA | RACE COURSE GUIDE
Albany Racecourse is found 422kms south east of Perth on Western Australia's southern coast.

PO Box 34, Albany, WA 6331Ph. (08) 9841 1400 Fax (08) 9842 1412
Albany racecourse is located 420 kilometres south east of Perth in Western Australia and is the home of the Albany Racing Club.
The coastal city was first settled in 1826 with the Albany Racing Club established in 1865.
The original race track was located on the northern outskirts of the township until 1926 when the course was re-located to Centenary Oval and was only 1075 metres in circumference.
In 1975 the current course was built on a site east of the city on Roberts Road and was named the Percy Spenser Racecourse in honour of a long-serving past race club president who died in 1976.
Albany Racing Club conducts 10 race meetings each season between January and May. The feature event is the Albany Cup held on Easter Sunday.
Albany racecourse is a 20 metres wide symmetrical flat oval with a circumference of 1600 metres and home straight of 300 metres.
Albany racecourse is a wel turfed course with two starting chutes for races over 1600m and 2100m. The smooth sweeping turns and long straights give all runners a fair chance from most starts.
Last 12 Meetings
| Date | SOT | Rails | Races | Runners |
| --- | --- | --- | --- | --- |
| 21 APR 2019 | R1 - R7 SOFT | Out 6m. Cutaway to True in the straight. | 7 | 58 |
| 12 APR 2019 | R1 - R7 GOOD | Out 4m CUTAWAY IN STRAIGHT. | 7 | 57 |
| 31 MAR 2019 | R1 - R7 GOOD | True. | 7 | 77 |
| 07 MAR 2019 | R2 - R8 SOFT | Out 3m. CUTAWAY IN STRAIGHT. | 8 | 83 |
| 10 FEB 2019 | R1 - R9 GOOD | Rail is at the inside position. | 9 | 107 |
| 31 JAN 2019 | R1 - R8 GOOD | Out 5m. CUTAWAY IN STRAIGHT. | 8 | 71 |
| 20 JAN 2019 | R1 - R7 GOOD | Out 3m. CUTAWAY IN STRAIGHT. | 7 | 65 |
| 11 JAN 2019 | R1 - R7 GOOD | Rail is at the inside position. | 7 | 60 |
| 06 JAN 2019 | R1 - R8 GOOD | Rail is at the inside position. | 8 | 82 |
| 26 DEC 2018 | R1 - R8 GOOD | Out 6m. 1200m-300m CUTAWAY IN STRAIGHT. | 8 | 69 |
| 14 DEC 2018 | R1 - R8 GOOD | Out 4m. (1200m-300m) 3m (200m-1200m). | 8 | 63 |
| 30 NOV 2018 | R1 - R7 GOOD | Out 3m. | 7 | 58 |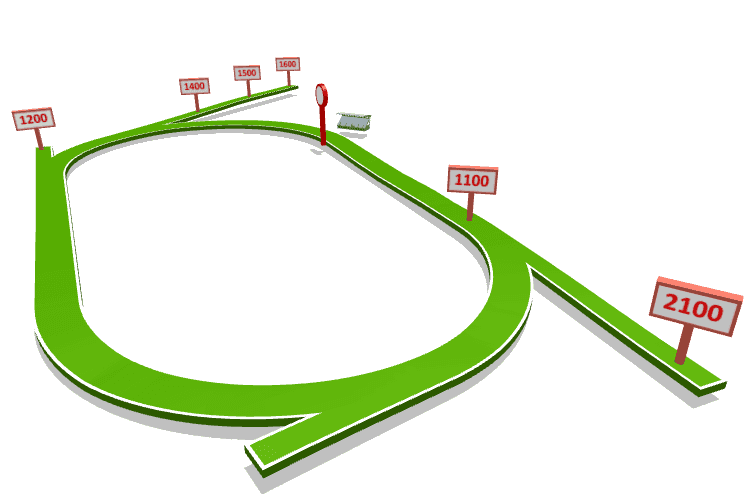 Related News