Type atleast three letters to find.
Australia - WA | RACE COURSE GUIDE
110Km South of Perth

PO Box 916, Bunbury, WA 6230Mobile 0418 935 427 Fax (08) 9721 2248
Bunbury racecourse is the home of the Bunbury Turf Club and is an important racing centre on Western Australia's southern coastline.
Located 170km south of Perth, Bunbury Turf Club conducts 20 race meetings each season and is a major training centre with more than 60 trainers based in the region.
The facilities include the course proper and grass and sand tracks for fast and slow work. The 1999 Melbourne Cup winner Rogan Josh was trained at Bunbury before he joined the Bart Cummings stable.
The Bunbury racing season covers the warmer summer months and runs from October to April. The highlights include Cronshaw Cup, AHA Cup, Bunbury Stakes, South West Breeders Patrons Plate and the Bunbury Cup in March.
Bunbury racecourse is a turning track with a circumference of 1796 metres and home straight of 348 metres.
There are starting chutes for races over 1200 metres, 1400 metres and 1670 metres with on pace runners holding an advantage due to the horseshoe turns.
Last 12 Meetings
| Date | SOT | Rails | Races | Runners |
| --- | --- | --- | --- | --- |
| 11 APR 2019 | R1 - R8 SOFT | Inside. (Pent: 6.8). | 8 | 79 |
| 28 MAR 2019 | R1 - R7 GOOD | Out 3m Entire Course. (Pent: 6.8). | 7 | 61 |
| 24 MAR 2019 | R1 - R9 GOOD | 3m. (Pent: 6.8). | 9 | 89 |
| 10 MAR 2019 | R2 - R9 GOOD | Rail is at the inside position. (Pent: 7.2). | 9 | 97 |
| 06 MAR 2019 | R1 - R9 GOOD | Rail is at the inside position. (Pent: 6.8). | 9 | 80 |
| 14 FEB 2019 | R1 - R7 GOOD | Out 3m. (Pent: 6.8). | 7 | 78 |
| 03 FEB 2019 | R1 - R8 GOOD | Rail is at the inside position. (Pent: 6.8). | 8 | 74 |
| 28 JAN 2019 | R1 - R8 GOOD | Out 6m. CUTAWAY IN STRAIGHT. (Pent: 6.8). | 8 | 63 |
| 16 JAN 2019 | R1 - R8 GOOD | Out 4m. (Pent: 6.9). | 8 | 95 |
| 13 JAN 2019 | R1 - R8 GOOD | Out 3m. | 8 | 85 |
| 01 JAN 2019 | R1 - R8 GOOD | Out 3m. | 8 | 80 |
| 23 DEC 2018 | R1 - R8 GOOD | Rail is at the inside position. (Pent: 6.9). | 8 | 74 |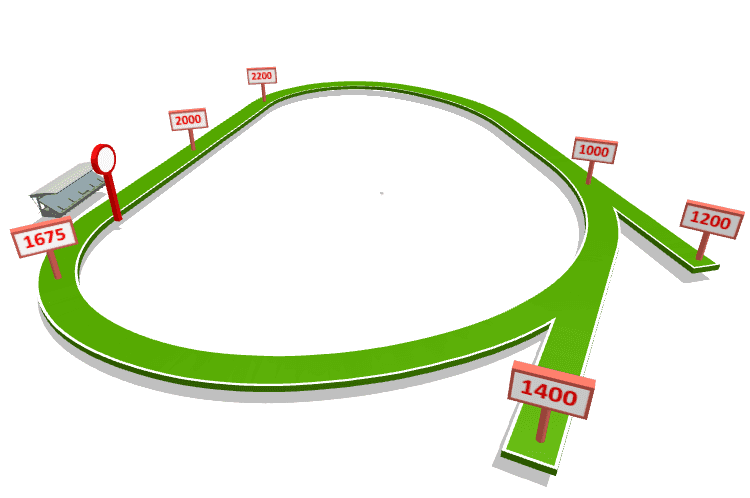 Related News