Type atleast three letters to find.
Australia - ACT | RACE COURSE GUIDE
5Km North of Canberra CBD

PO Box 1, Watson ACT 2602Ph. (02) 6241 3888 Fax (02) 6241 5697
Canberra Thoroughbred Park racecourse is the home of the Canberra Racing Club and has been the site of thoroughbred racing in the National Capital since the early 1960s.
Thoroughbred Park is located at Lyneham, 6km north of Canberra's major business and shopping precinct. It was constructed as a self-sufficient racing and training complex to replace the old Acton racecourse that had served Canberra since the 1920s and was submerged by the damming of the Molonglo River in 1963 to form Lake Burley Griffin.
Racing at Thoroughbred Park is conducted on two tracks – the turf course proper and the inner synthetic Acton track.
The course proper has a flat circumference of 1815 metres. It is 25 metres wide and has a home straight 400 metres.
The Acton track, used principally for racing during the winter months, has a circumference of 1587 metres. It is 15 metres wide and has a home straight of 380 metres.
Canberra Racing Club, formed by a merger of the ACT Jockey Club and Canberra Race Club in 1975, conducts 25 meetings a year at Thoroughbred Park with the highlight being the Super Sunday meeting in March that features the Black Opal Stakes and Canberra Cup.
Canberra Racing Club is a Principal Race Club under the auspices of the racing industry's national governing body Racing Australia.
Thoroughbred Park is the major racing and training centre between Sydney and Melbourne. There are almost 30 trainers using the Thoroughbred Park facilities to prepare more than 500 horses with more than a dozen large stable blocks located on the course.
Last 12 Meetings
| Date | SOT | Rails | Races | Runners |
| --- | --- | --- | --- | --- |
| 10 MAR 2019 | R1 - R8 GOOD | Out 3m Entire. (Pent: 3.96). | 8 | 92 |
| 22 FEB 2019 | R1 - R8 GOOD | True. (Pent: 3.91). | 8 | 82 |
| 01 FEB 2019 | R1 - R8 GOOD | Out 8m Entire Course. (Pent: 4.09). | 8 | 79 |
| 18 JAN 2019 | R1 - R8 SOFT | Out 4m Entire. (Pent: 4.39). | 8 | 75 |
| 04 JAN 2019 | R1 - R6 GOOD | True. (Pent: 3.81). | 7 | 59 |
| 28 DEC 2018 | R1 - R8 GOOD | Out 7m Entire. (Pent: 3.9). | 8 | 63 |
| 16 DEC 2018 | R1 - R7 SOFT | Out 3m Entire course. (Pent: 4.84). | 7 | 73 |
| 30 NOV 2018 | R1 - R8 GOOD | True. (Pent: 4.1). | 8 | 76 |
| 18 NOV 2018 | R1 - R7 GOOD | True. (Pent: 3.79). | 7 | 71 |
| 06 NOV 2018 | R1 - R8 SOFT | Out 9m Entire Course. (Pent: 3.74). | 8 | 60 |
| 19 OCT 2018 | R1 - R8 GOOD | Out 6m Entire. (Pent: 3.4). | 8 | 79 |
| 05 OCT 2018 | R1 - R8 GOOD | Out 3m Entire Course. (Pent: 3.81). | 8 | 86 |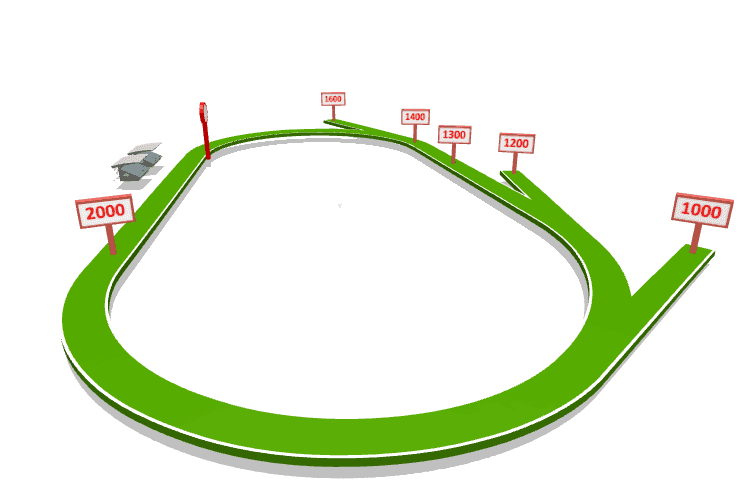 Related News