Type atleast three letters to find.
Australia - NSW | RACE COURSE GUIDE
10Km South-West of Sydney CBD

PO Box 21 Canterbury NSW 2193Phone: 02 9930 4000Fax: 02 9930 4099
The suburban Canterbury racecourse is located 11km from Sydney's CBD and is a popular midweek and night racing venue operated by the Australian Turf Club.
Canterbury is a small saucer shaped track with a circumference of only 1579 metres and home straight of 317 metres, making it a popular venue due to the public's close proximity to the racing action.
The first race meeting on the Canterbury Park was held in 1852 when a property was cleared for use as a racecourse. Racing was intermittent until 1871 when Frederick Clissold and Thomas Austen Davis held a race meeting on land that had been leased by Davis.
In 1884 the site was leased as the headquarters of Canterbury Park Race Club and a new track, 700 person grandstand and recreational park was constructed. The course hosted its first meeting on the January 19 1884 and in 1886 53 acres of the leased land was purchased by Davis for use by the race club.
Apart from a racecourse the precinct also contained a zoo that operated until World War I.
The Sydney Turf Club acquired Canterbury racecourse when it was founded in 1943, marking the end of proprietary-owned racecourses in Sydney.
The STC held its first meeting at Canterbury in 1945 and held the racecourse until its merger with the Australian Jockey Club in 2011 to become the Australian Turf Club.
The ATC are the current owners of Canterbury Park racecourse which now hosts up to 30 race meeting annually. The majority of meetings are held on Wednesdays and Friday nights.
Night racing was introduced at Canterbury in 2010, joining Melbourne's Moonee Valley as the only two metropolitan tracks in Australia with lighting for night racing.
The night racing season at Canterbury is held during the warmer months from late spring through to early autumn in tandem with daylight saving.
Canterbury was a thriving training centre in its early years and supported a number of trainers until the last stables were closed in the 1980s.
The Canterbury Guineas was Canterbury's flagship race until regular Saturday racing fixtures were removed from the Canterbury agenda in 2005.
The Canterbury Guineas, a classic race for three-year-olds was run as the first leg of Sydney's Triple Crown over 1900 metres from 1935. It was replaced by the Randwick Guineas in 2006 when the distance was reduced to 1600m.

Last 12 Meetings
Date
SOT
Rails
Races
Runners
22 FEB 2019

R1 - R8 SOFT

Out 6m Entire Circuit. (Pent: 5.46).
8
61
15 FEB 2019

R1 - R8 GOOD

Out 3M ENTIRE. (Pent: 4.77).
8
68
08 FEB 2019

R2 - R8 HEAVY

True. (Pent: 4.62).
8
62
01 FEB 2019

R1 - R7 SOFT

Out 6m Entire. (Pent: 4.91).
7
63
23 JAN 2019

R1 - R7 GOOD

Out 3m Entire. (Pent: 4.82).
7
53
18 JAN 2019

R1 - R8 GOOD

True. (Pent: 4.83).
8
56
09 JAN 2019

R1 - R7 SOFT

Out 6m Entire. (Pent: 5.57).
7
67
04 JAN 2019

R1 - R8 GOOD

Out 3m Entire Circuit. (Pent: 4.7).
8
73
14 DEC 2018

R1 - R6 HEAVY

|

R7 - R8 SOFT

True. (Pent: 5.49).
8
74
30 NOV 2018

R1 - R4 SOFT

|

R5 - R8 GOOD

Out 5m Entire. (Pent: 5.28).
8
77
16 NOV 2018

R1 - R8 GOOD

Out 3m Entire. (Pent: 4.68).
8
77
26 OCT 2018

R1 - R8 SOFT

True. (Pent: 5.43).
8
60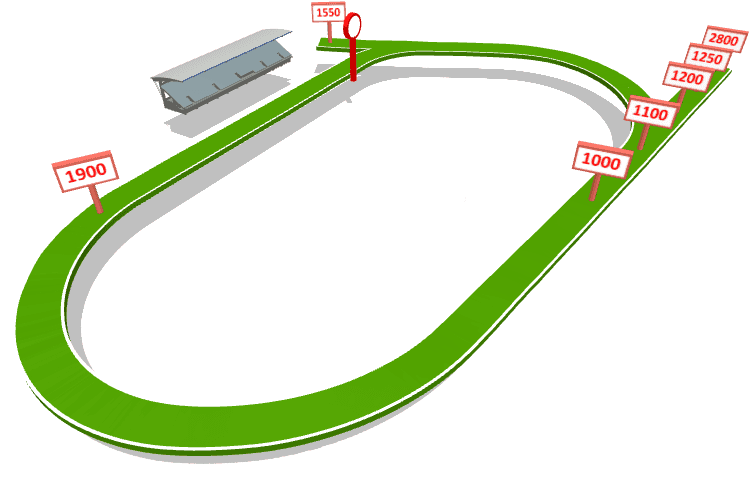 Related News