Australia - Tas | RACE COURSE GUIDE
P.O. Box 340, Mowbray Heights, Tas. 7248Ph. (03) 6326 1070 Fax (03) 6326 5138
Sunday, 19 May 2019 LAUNCESTON Race Results
| Race No | Race Name | Winner | Jockey | Trainer | Win Time | PM AUD $ |
| --- | --- | --- | --- | --- | --- | --- |
| R1 | AUST. RACING HALL OF FAME MDN | WITH NO NAME | TROY BAKER | SCOTT BRUNTON | 1:16.00 | 17,000 |
| R2 | MCKILLOPS INS. BROKERS MDN | KOMBACY | B MUHCU | JOHN BLACKER | 1:15.31 | 17,000 |
| R3 | KEVIN SHARKIE MDN | XAARZAM | B MUHCU | BRENDAN MCSHANE | 1:42.03 | 17,000 |
| R4 | PFD FOOD SERVICES HCP | SPEED FORCE | BRENDON MCCOULL | BILL RYAN | 2:14.38 | 20,000 |
| R5 | ARMIDALE STUD TASBRED 2YO | DEROCHE | CRAIG NEWITT | BARRY CAMPBELL | 1:13.50 | 50,000 |
| R6 | TAB/ATA TRAINERS TRUST (BM64) | AXION | ISMAIL TOKER | BARRY CAMPBELL | 1:27.55 | 17,000 |
| R7 | GALLOPING GOURMET CATERING-C1 | ROULETTE STAR | HARRY GRACE | SIGRID CARR | 1:41.33 | 17,000 |
| R8 | R.F. FERGUSSON HCP | THE MASTER SPEED | PETER LUI | WAYNE CURRAN | 1:27.01 | 20,000 |
| R9 | E (TED) COX MEMORIAL (BM64) | THEWORDSOUT | ANTHONY DARMANIN | TAMMY MOLLROSS | 1:14.22 | 17,000 |
| R10 | BROOKLYN PARK AGISTMENT (BM72) | STREET TOUGH | CRAIG NEWITT | SCOTT BRUNTON | 1:07.53 | 18,000 |
Launceston Past Races
Last 12 Meetings
Date
SOT
Rails
Races
Runners
19 MAY 2019

R1 - R10 SOFT

Out 9m 1200m - WP. Out 7m Remainder. (Pent: 4.84).
10
107
05 MAY 2019

R1 - R8 SOFT

Out 7m entire circumference. (Pent: 4.8).
8
87
24 APR 2019

R1 - R8 SOFT

Out 3m 1200 to WP-remainder True. (Pent: 4.6).
8
82
19 APR 2019

R1 - R3 SOFT

|

R4 - R8 GOOD

True. (Pent: 4.64).
8
90
06 APR 2019

R1 - R8 SOFT

Out 6m 1200m-W/Post; Out 3.5m Remainder. (Pent: 4.78).
8
61
03 APR 2019

R1 - R7 GOOD

Out 3.5m Entire Circuit. (Pent: 4.54).
7
53
27 MAR 2019

R1 - R8 SOFT

True. (Pent: 4.64).
8
72
20 MAR 2019

R1 - R9 SOFT

Out 9m 1200m to WP. Out 6m remainder. (Pent: 4.52).
9
96
09 MAR 2019

R1 - R8 GOOD

Out 6m Entire Circuit. (Pent: 4.54).
8
83
27 FEB 2019

R1 - R10 GOOD

Out 3m Entire. (Pent: 4.49).
10
115
24 FEB 2019

R1 - R8 GOOD

True. (Pent: 4.46).
8
79
13 FEB 2019

R1 - R8 SOFT

Out 7m 1200m-W/Post; Out 6m Remainder. (Pent: 5.16).
8
83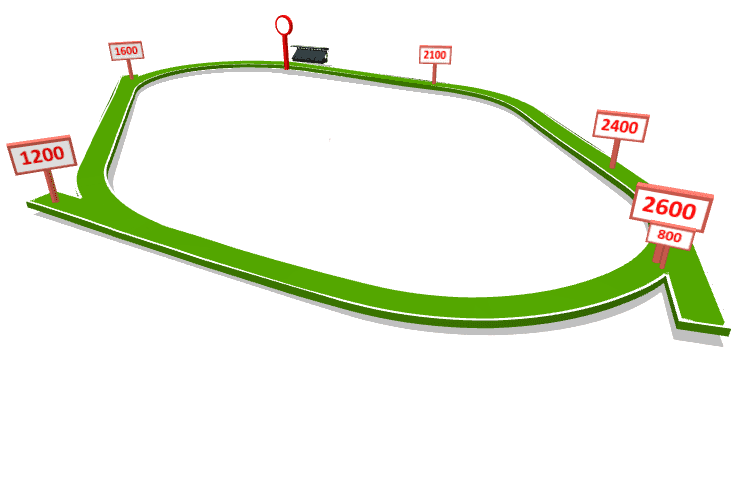 Related News
Global wagering powerhouse Ladbrokes will become the Tasmanian racing industry's exclusive venue and major race day partner from August 1.
Jockey Anthony Darmanin says he can't wait to get back aboard star filly Mystic Journey when the Group One winner makes her return to racing.
Tas Racing is confident racing will return to Elwick in late January for the Hobart Cup carnival.