Australia - SA | RACE COURSE GUIDE
680Km West of Adelaide

PO Box 17, Port Lincoln, SA 5606Ph. (08) 8682 3851
Last 12 Meetings
| Date | SOT | Rails | Races | Runners |
| --- | --- | --- | --- | --- |
| 22 MAR 2020 | R1 - R8 GOOD | True. | 8 | 72 |
| 06 MAR 2020 | R1 - R9 GOOD | True. | 9 | 96 |
| 23 FEB 2020 | R1 - R7 GOOD | True. | 7 | 66 |
| 07 FEB 2020 | R1 - R7 GOOD | Out 2m 800m - W/P. Out 1m Remainder (Twilight Meeting). | 7 | 66 |
| 24 JAN 2020 | R1 - R9 GOOD | Out 2m 800m - W/P. Out 1m Remainder (Twilight Meeting). | 9 | 90 |
| 12 JAN 2020 | R1 - R8 GOOD | Out 2m 800m - W/P. Out 1m Remainder. | 8 | 82 |
| 31 DEC 2019 | R1 - R9 GOOD | Out 3m 900m-500m. Out 4m 500m-WP. Out 2m Remainder. (Twilight Meeting). | 9 | 79 |
| 22 DEC 2019 | R1 - R8 GOOD | Out 3m 900m-500m. Out 4m 500m-W/P. Out 2m Remainder. | 8 | 71 |
| 13 DEC 2019 | R1 - R8 GOOD | Out 3m 900m-500m. Out 4m 500m-W/P. Out 2m Remainder (Twilight Meeting). | 8 | 67 |
| 29 NOV 2019 | R1 - R9 GOOD | Out 1m 1050m-900m; Out 1.5m 450m -300m; True Remainder (Twilight Meeting). | 9 | 85 |
| 15 NOV 2019 | R1 - R9 GOOD | Out 1m 1050m-900m; Out 1.5m 450m -300m; True Remainder (Twilight Meeting). | 9 | 87 |
| 06 NOV 2019 | R1 - R8 GOOD | True. | 8 | 77 |
Related News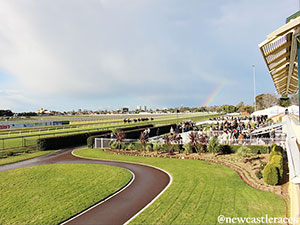 Not having ridden at Morphettville for just on twelve months apprentice Dylan Caboche returned to Adelaide in triumph.
Racing and Sports highlight our standout plays for Australian TAB meetings on February 23.
Apprentice Dylan Caboche has ridden a winner at Sale at his first ride since a year-long injury-enforced break.