New Zealand - NZ | RACE COURSE GUIDE
The Racecourse, Purnell Street, PO Box 15, Wanganui
Thursday, 14 January 2021 WANGANUI Race Results
| Race No | Race Name | Winner | Jockey | Trainer | Win Time | PM NZD $ |
| --- | --- | --- | --- | --- | --- | --- |
| R1 | TRIBUTE TO GLENN WATSON MDN | MELODY ROXX | LISA ALLPRESS | SANDRA DRAVITZKI | 1:11.99 | 10,000 |
| R2 | PALAMOUNTAINS NUTRITION MDN | LINCOLN HANOVER | JONATHAN RIDDELL | MS L LATTA | 1:20.18 | 10,000 |
| R3 | WANGANUI OWNERS ASSOC. MDN | WISHING WELL | DANIELLE JOHNSON | JAMIE RICHARDS | 1:19.77 | 10,000 |
| R4 | MANELY HORSE MDN | PLATINUM PETALS | SAMANTHA COLLETT | MS L LATTA | 1:37.47 | 10,000 |
| R5 | RACE IMAGES MDN | CHARMS STAR | SAM WEATHERLEY | MS L LATTA | 1:37.41 | 10,000 |
| R6 | SPOONERS DRY CLEANERS (BM65) | GALWAY BRO | SAM O'MALLEY | A BULL | 1:36.26 | 10,000 |
| R7 | G BRISTOL & SONS (BM74) | SERENA | LEAH HEMI | JOHN BARY | 1:19.35 | 11,000 |
| R8 | MEMORIAL TO TREVOR FIELD MDN | BEAR GRYLS | TAIKI YANAGIDA | BARRY COXHEAD | 2:08.24 | 10,000 |
| R9 | KOOL'S CHICKEN WHANGANUI MDN | ZEROED | DARRYL BRADLEY | DAVID & EMMA HAWORTH | 2:07.00 | 10,000 |
| R10 | WHANGANUI CHRONICLE (BM65) | MILITARY STEP | DANIELLE JOHNSON | JAMIE RICHARDS | 2:06.00 | 10,000 |
Wanganui Past Races
Last 12 Meetings
| Date | SOT | Rails | Races | Runners |
| --- | --- | --- | --- | --- |
| 14 JAN 2021 | R1 - R10 DEAD | True. | 10 | 134 |
| 28 NOV 2020 | R1 - R8 SLOW | True | 4mm Rain Overnight. | 8 | 78 |
| 05 SEP 2020 | R1 - R8 HEAVY | True | No Rain Last 24 Hours. | 8 | 95 |
| 24 JUL 2020 | R1 - R11 HEAVY | Out 4m | 5mm Rain las t 24 hours. | 11 | 138 |
| 10 JUL 2020 | R1 - R12 HEAVY | Out 4m | No Rain Last 24 Hours. | 12 | 143 |
| 25 JUN 2020 | R1 - R11 SLOW | Out 2m. | 11 | 146 |
| 14 FEB 2020 | R1 - R7 DEAD | Out 2m. | 7 | 58 |
| 09 JAN 2020 | R1 - R8 DEAD | True. | 8 | 68 |
| 30 NOV 2019 | R1 - R8 GOOD | True. | 8 | 91 |
| 19 SEP 2019 | R1 - R9 DEAD | True. | 9 | 100 |
| 07 SEP 2019 | R1 - R9 HEAVY | True | No Rain Overnight. | 9 | 81 |
| 18 AUG 2019 | R1 - R9 HEAVY | Out 4m On Bends | Out 6m On Straights | 41mm Last 7 Days | 3mm Rain Overnight. | 9 | 90 |
Related News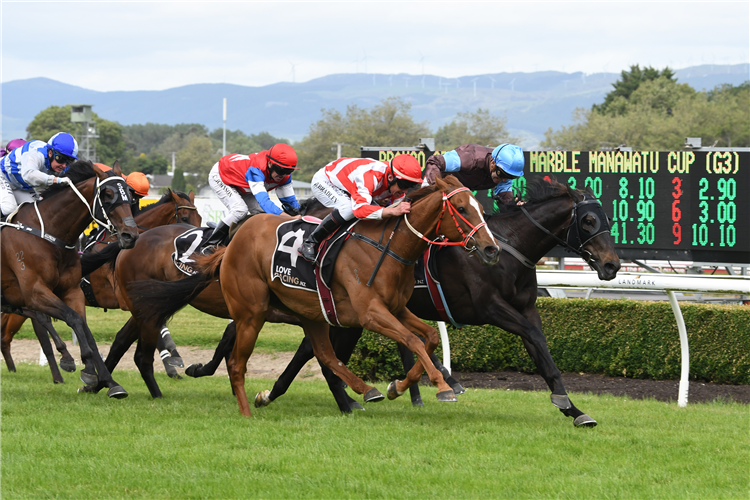 Kevin Myers has long been one of the greatest supporters of country racing in New Zealand, and few horses embody that support better than Overtheriver.
For 18 months veteran jockey Darryl Bradley was stuck on 99 career black type victories, wondering if the century would ever come up.
Hastings visitor Hunta Pence overcame his apparent dislike of the Awapuni track to register his biggest career victory when he took out the Gr.3 Bramco Granite and Marble Manawatu Cup (2300m) in a desperate finish on Saturday.