Type atleast three letters to find.
Apollo Stakes
Australia | FEATURE RACE GUIDE
History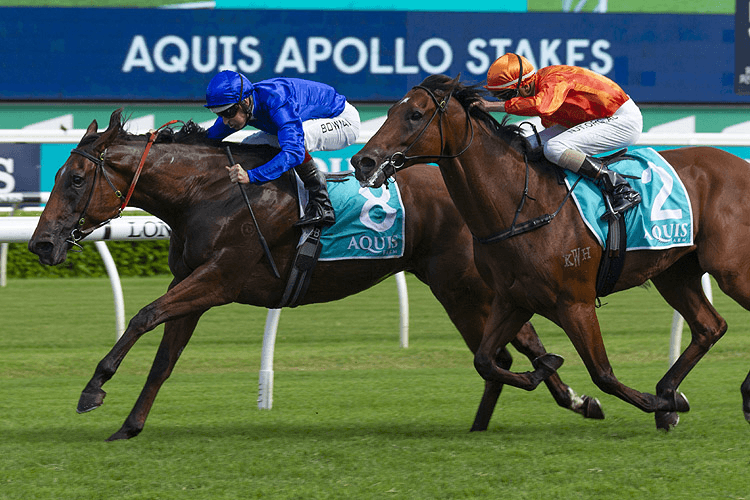 The Apollo Stakes is a Group 2 race for open class horses conducted by the Australian Turf Club at Randwick.
The Apollo Stakes was first run in 1977 and was won by Visit.
The Apollo Stakes is run over 1400m under Weight For Age conditions. It was worth $250,000 in 2020.
From 1979 and beyond it was a Group 2 race.
Most runnings have been at Randwick but Rosehill and Warwick Farm have had eight year stretches of hosting the race.
Mares have a very good record of late. Winx x 3, Appearance, Melito, Tuesday Joy, Ike's Dream, Private Steer, Ha Ha, Sunline twice are winners in the last 20 years.
Winx began her last campaign winning her 30th straight race in 2019.
Last non-NSW trained winner was Sunline in 2001.
Notable winners of the Apollo Stakes include Emancipation (1984), Red Anchor (1985), Drawn (1986), Diamond Shower (1987), Beau Zam (1989), Triscay (1991), Naturalism (1993), Burst (1994), Pharaoh (1995), Juggler (1996/1997), Sunline (2000/2001), Ha Ha (2002), Lonhro (2003), Private Steer (2004), Grand Armee (2005) Desert War (2007), Racing To Win (2008), Tuesday Joy (2009), Danleigh (2010), Melito (2011), Appearance (2014), Contributer (2015), Winx (2016/2017/2019) and Alizee (2020).
The 2020 Apollo Stakes was won by Alizee from Dreamforce and Happy Clapper.

Previous Apollo Stakes Winners
Related News