Type atleast three letters to find.
Bletchingly Stakes
Australia | FEATURE RACE GUIDE
History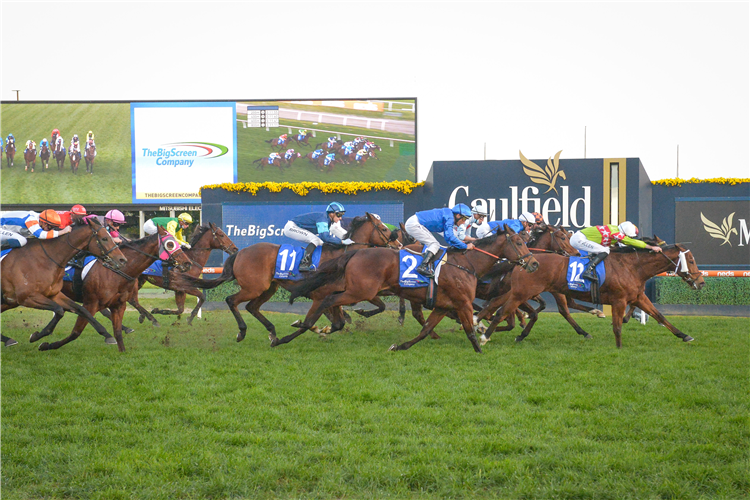 The Bletchingly Stakes is a Group 3 race run under Weight For Age conditions for open sprinters at Caulfield conducted by the Melbourne Racing Club.
The Bletchingly Stakes is run over 1200m and is the last group race of the season.
It was first run in 1994 and won by Poetic King.
The race was run on the Sandown-Lakeside track in 2017.
The distance of the Bletchingly Stakes was 1100m until 2003 then 1200m from then on. It became a Group 3 race in 1997.
The Bletchingly Stakes is notable for the number of G1 winners who win this race before or after taking the Caulfield event.
Trainers to win it multiple times include Lee Freedman, Peter Moody, Clinton McDonald and Lance Smith and Damien Oliver has most recent wins as a jockey with three.
Shoot Out won the race in 2010, three months after his Derby win in Sydney. It was the first of an eight run Spring campaign.
In 2019 Scales Of Justice came from Perth with his trainer and won impressively. He'd go on to win the G1 Memsie Stakes at the same course.
The 2021 Bletchingly Stakes was run for prizemoney of $160,000.
Notable winners of the Bletchingly Stakes include Scales Of Justice (2019), Vega Magic (2018), Smokin' Joey (2015), Mid Summer Music (2011), Shoot Out (2010), Let Go Thommo (2009), Apache Cat (2007), Regal Roller (2005), Le Zagaletta (2004), Super Elegant (2003), Rubitano (2002), Sports (1999), You Remember (1995/1996) and Poetic King (1994).
The 2021 Bletchingly Stakes was won by Sansom from Streets Of Avalon and Isaurian.

Previous Bletchingly Stakes Winners
Related News