Type atleast three letters to find.
Craven Plate
Australia | FEATURE RACE GUIDE
History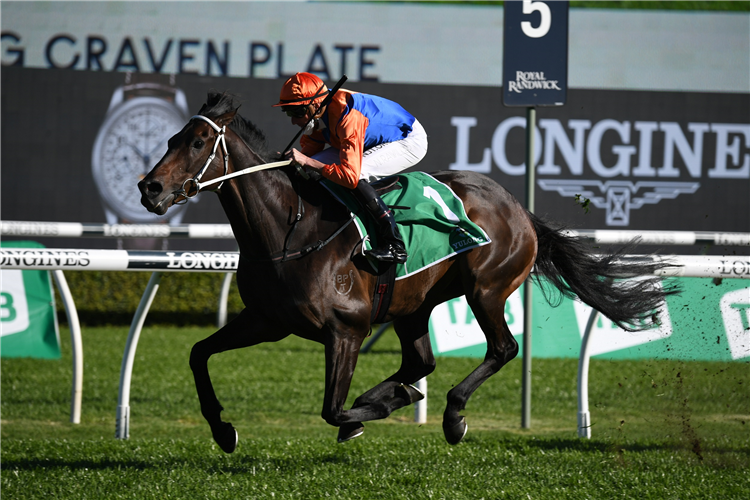 The Craven Plate is a Group 3 race run under Weight For Age conditions for open class horses at Randwick conducted by the Australian Turf Club.
The Craven Plate is run over 2000m. It was first run in 1867 and was won by Yattendon.
The Craven Plate had been moved from Epsom day to be run a fortnight later and can be a Cox Plate lead up.
Has basically been at 2000m bar for the one running on the Kensington track in 2001 when at 1800m won by The Man.
The Craven Plate was a Principal Race then at Listed level from 1984 to 1992 then a Group 3 thereafter.
Race was not held in 1946 and also 1979-1983.
The 2007 race was not held due to the Equine Influenza break out.
In 2019, the grand Happy Clapper continued his love affair with Randwick courtesy of a brilliant ride by Tommy Berry.
Think It Over would win a George Ryder Stakes and Liverpool City Cup after winning his Craven Plate. Then in 2021 he'd have an even better run in that Spring winning the Chelmsford and Hill Stakes prior to the Craven.
The Craven Plate was worth $750,000 in 2021.
Notable winners of the Craven Plate include Think It Over (2020/2021), Happy Clapper (2019), It's Somewhat (2016), Mourayan (2012), My Kingdom Of Fife (2011), Mummify (2005), Yippyio (1997/2000), Tie The Knot (1999), Stony Bay (1995), Telesto (1992), Hayai (1984/1985), Ming Dynasty (1978), Battle Heights (1976), Tulloch (1960), Prince Darius (1957/1958), Playboy (1950), Flight (1943/1945), Peter Pan (1935), Chatham (1932/1933/1934), Phar Lap (1929/1930/1931), Gloaming (1919/1922/1924), Wakeful (1902), Carbine (1890) and The Barb (1868).
The 2021 Craven Plate was won by Think It Over from Sky Lab and Lion's Roar.

Previous Craven Plate Winners
Related News