Type atleast three letters to find.
Golden Rose Stakes
Australia | FEATURE RACE GUIDE
History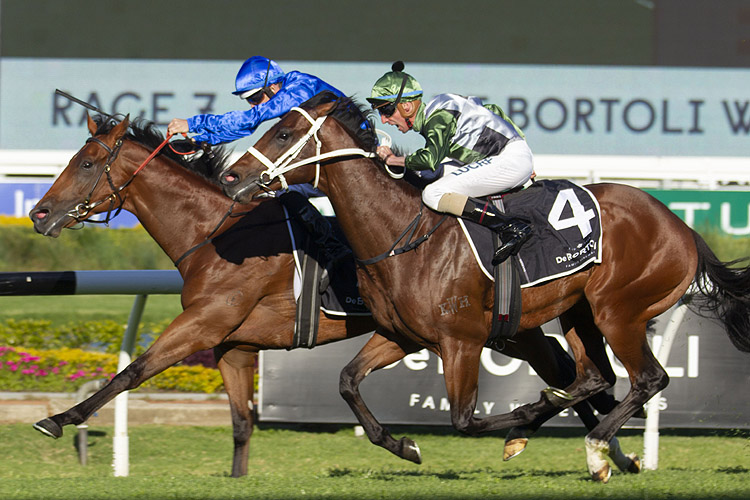 The Golden Rose Stakes is a Group 1 race run under Set Weight conditions for three year olds at Rosehill conducted by the Australian Turf Club.
The Golden Rose Stakes is run over 1400m. It was first run in 1978 as the Peter Pan Stakes and was won by Kapalaran.
As the Golden Rose Stakes all runnings have been over 1400m.
The race was originally named after the champion horse Peter Pan. It became the Golden Rose as a Spring follow up from the Golden Slipper in 2003.
As the Peter Pan Stakes it was a Group 2 up to the end in 2002. Once the Golden Rose Stakes began it was unlisted but run at $1million. It was incrementally re-elevated to become Group 1 in 2009.
Since becoming the Golden Rose, the Crown Lodge/Darley/Godolphin team have won the race seven times.
Many Caulfield Guineas winners have come out of this race. For instance these 3yos ran these placings at Rosehill – The Autumn Sun (1st), Divine Prophet (4th), Press Statement (5th), Shooting To Win (3rd), Helmet (3rd), God's Own (4th), Econsul (4th), In Top Swing (1st).
Those to do The Run To The Rose/Golden Rose double are Paratroopers, Denman, Hallowed Crown, Exosphere, Astern and Bivouac.
While Trapeze Artist won the 2017 edition at 40-1, his return in the Autumn would include Championships G1s like the TJ Smith Stakes and All Aged Stakes.
The Autumn Sun was spectacular last year coming from last and would add to his resume in the Caulfield Guineas making it three G1s from only six outings.
The 2007 race was not held due to the Equine Influenza break out. It was however transferred to be run in the Autumn of 2008 with another edition the following Spring.
The Golden Rose Stakes was worth $1million in 2019.
Notable winners of the Golden Rose Stakes include Bivouac (2019), The Autumn Sun (2018), Trapeze Artist (2017), Astern (2016), Exosphere (2015), Hallowed Crown (2014), Zoustar (2013), Epaulette (2012), Denman (2009), Forensics (2008), Paratroopers (2005), In Top Swing (2003), Magic Albert (2001), Fairway (1999), On Air (1997), Flying Spur (1995), March Hare (1993), Drought (1986), Handy Proverb (1985), Sir Dapper (1983), Best Western (1981) and Kingston Town (1979).
The 2019 Golden Rose Stakes was won by Bivouac from Yes Yes Yes and Exceedance.

Previous Golden Rose Stakes Winners
Related News