Type atleast three letters to find.
Gunsynd Classic
Australia | FEATURE RACE GUIDE
History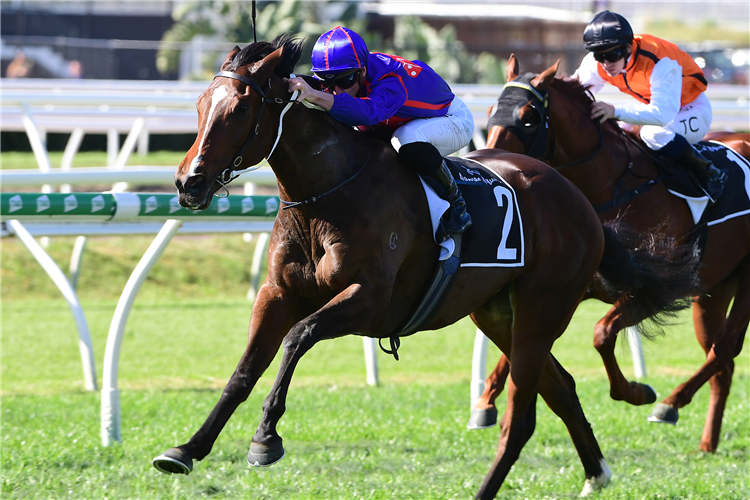 The Gunsynd Classic is a Group 3 race for three-year-olds conducted at Eagle Farm by the Brisbane Racing Club.
The Gunsynd Classic was first run at Doomben in 1989 by the Brisbane Amateur Turf Club as the Doomben Classic.
It has been run under set weight conditions since its inception and became the Gunsynd Classic in 2010 in recognition of the popular Queensland-owned champion of the 1970s known around Australia as the Goondiwindi Grey.
The Doomben/Gunsynd Classic was run over 1615m from 1989 until 1999 and again from 2011 to 2009. In 2000 the distance was 1640m and from 2010 to 2014 it was run over 1600m.
The distance in 2015 was 1800m and in 2016 it returned to 1630m. The race has been run at Doomben every year with the exception of 2014 (Eagle Farm) and 2015 (Gold Coast). It's now back at Eagle Farm and increased to 1800m in the altered 2020 Winter.
The Doomben/Gunsynd Classic was a Listed Race until 1996 and has been Group 3 since 1997.
The race was effectively swapped with the Queensland Guineas to be run on Stradbroke Day in 2021.
The 2021 Gunsynd Classic was worth prizemoney of $200,000.
Notable winners of the Doomben/Gunsynd Classic include Stylish Century, Kidman's Cove, Marble Halls, Belmonte, Akhenaton, Galroof, Reigning To Win, Proverb, Hopfgarten, Gem Song and Ayrton.
The 2021 Gunsynd Classic was won by Ayrton from Ellsberg and Mob Buster.

Previous Gunsynd Classic Winners
Related News