Type atleast three letters to find.
Queen Elizabeth Stakes
Australia | FEATURE RACE GUIDE
History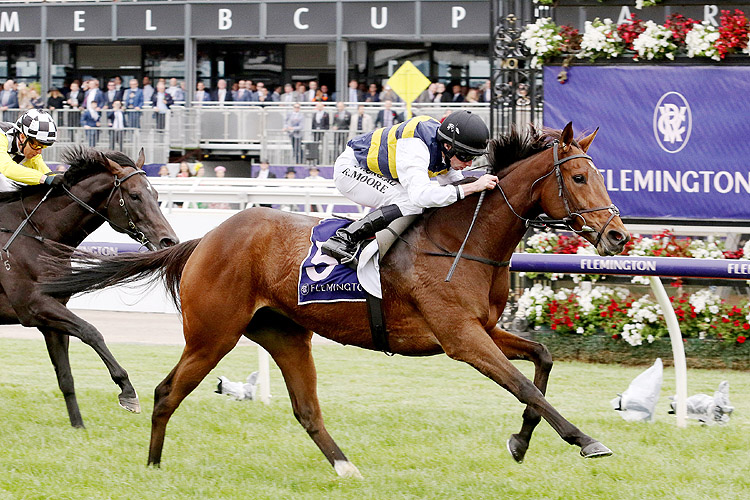 The Queen Elizabeth Stakes is a Group 3 race run under Quality Handicap conditions for stayers at Flemington conducted by the Victoria Racing Club.
The Queen Elizabeth Stakes is run over 2600m. It was first run as the Queen Elizabeth in 1954 with Cromis (Autumn) and Rising Fast (Spring) winning it.
The race was a replacement for the CB Fisher Plate taken from the Autumn.
It is sometimes renamed and run as the Queen's Cup on the rotational basis of Australian Race Clubs.
The Queen Elizabeth Stakes was a Principal Race until 1979 then Group 2 up to 2004 before back to Group 3 in 2005.
It has been raced over so many distances from 3 miles to begin with all the way down to 2400m in 1972. From 2010 it has been at 2600m.
The Queen Elizabeth Stakes has turned into a good race for the imported horses. Francis Of Assisi, Dandino, Fantastic Love, Hatha Anna, True Self plus others raced predominantly overseas.
Before True Self, the last mare to win was Makybe Diva in 2002. This was the start of her reign. She would win during Cup week the following three years – the Melbourne Cup itself.
Might And Power almost went around for fun in 1998 after winning the Cox Plate. He met five poor rivals, carried 60kg and won by seven lengths hard held.
The Queen Elizabeth Stakes was worth $300,000 in 2019.
Notable winners of the Queen Elizabeth Stakes include True Self (2019), Precedence (2013), Puissance De Lune (2012), Our Smoking Joe (2005), Zazzman (2003), Makybe Diva (2002), Might And Power (1998), Hyperno (1979/1980), Salamander (1978), Leilani (1974), Scotch And Dry (1972), Rain Lover (1968), Galilee (1966), Even Stevens (1962), Sailor's Guide (1956/1958), Redcraze (1957), Rising Fast (1954/1955), Hydrogen (1952/1953), High Caste (1939/1940/1941), Ajax (1938), Hall Mark (1935), Rogilla (1933), Phar Lap (1930), Amounis (1929), Violoncello (1922), Eurythmic (1920), Wakeful (1902) and Tim Wiffler (1867/1870).
The 2019 Queen Elizabeth Stakes was won by True Self from Carif and Maurus.

Previous Queen Elizabeth Stakes Winners
Related News