Type atleast three letters to find.
Queen Elizabeth Stakes
Australia | FEATURE RACE GUIDE
History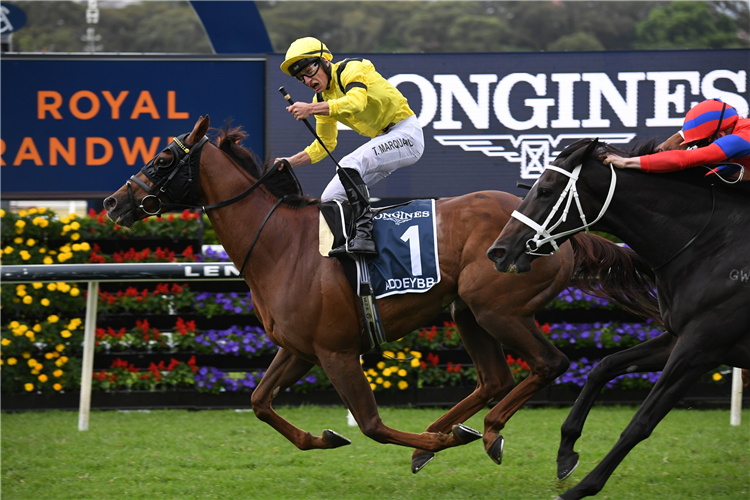 The Queen Elizabeth Stakes is a Group 1 race for Open Class horses conducted by the Australian Turf Club at Randwick.
It was upgraded to $4million in prize money when The Championships began in 2014 but for one year reduced to $2million due to the effects of COVID-19 in 2020. It went back up in 2021.
The Queen Elizabeth Stakes was first run in 1954 and was won by Blue Ocean. It replaced the Queen's Plate and AJC Plate which were run from 1851.
The Queen Elizabeth Stakes is run over the championship distance of 2000m under Weight-For-Age conditions. It has changed distance a few times as much as 2800m in some runnings.
There have been ten mare victories to win as the Queen Elizabeth – Lowland (1969), Jandell (1975), My Blue Denim (1981), Tristarc (1986), Dinky Flyer (1987), More Joyous (2012), Lucia Valentina (2016) and Winx (2017/2018/2019).
Only five 3yos have won – Tulloch (1958), Prince Grant (1966), Garcon (1967), Gay Icarus (1971), Intergaze (1997).
One of his great feats is that Tommy Smith has won this race 11 times while Chris Waller is next best with five.
George Moore holds the jockey's record at six but Damien Oliver has five.
Doncaster Mile-Queen Elizabeth double – Iko (1980), More Joyous (2012).
Ranvet Stakes-Queen Elizabeth double – 6 times with the most recent Addeybb (2020).
The BMW-Queen Elizabeth double - 10 times with the most recent Eremein (2006).
The first two runnings of the $4m Queen Elizabeth was won by the previous year's Derby winner (Dundeel & Criterion). Mongolian Khan couldn't make it a hatrick.
My Kingdom Of Fife won in 2011 after taking out the Doncaster Prelude at $151 the previous start which was one of the largest prices for a Group race winner in Australia.
Sarrera won in 2008 at $51 coming off a mile handicap at Moonee Valley.
In 2020, England's William Haggas brought out two horses and they both won with Addeybb winning both the G1 Ranvet and G1 Queen Elizabeth. It was a very satisfying race as the UK beat home Australian, Japanese and New Zealand runners in the first six.
A year later he returned with Favorite Moon winning the Manion Cup but Addeybb was the flagbearer again with a superb win in the QEII.
Has been a race where fairytale endings have not always been realised. Gunsynd lost his farewell race, Intergaze held off Octagonal in his last race and Grand Armee did the same to Lonhro.
However in 2019, the greatest of them all Winx ended her career with 33 straight wins including her third QEII Stakes in front of 43,000 adoring fans.
Multiple winners of the race as the Queen Elizabeth are Tulloch (1958, 1960, 1961), Intergaze (1997, 1999), Grand Armee (2004, 2005), Winx (2017/2018/2019) and Addeybb (2020/2021).
Other notable winners include Gay Icarus (1971), Tails (1972), Ming Dynasty (1978), Rising Prince (1985), Tristarc (1986), Our Poetic Prince (1989), Sydeston (1990), Rough Habit (1992), Veandercross (1993), Jeune (1995), Doriemus (1996), Might And Power (1998), Shogun Lodge (2001), Lonhro (2003), More Joyous (2012) and Dundeel (2014).
The 2021 Queen Elizabeth Stakes was won by Addeybb from Verry Elleegant and Dalasan.

Previous Queen Elizabeth Stakes Winners
Related News