Type atleast three letters to find.
Rosehill Guineas
Australia | FEATURE RACE GUIDE
History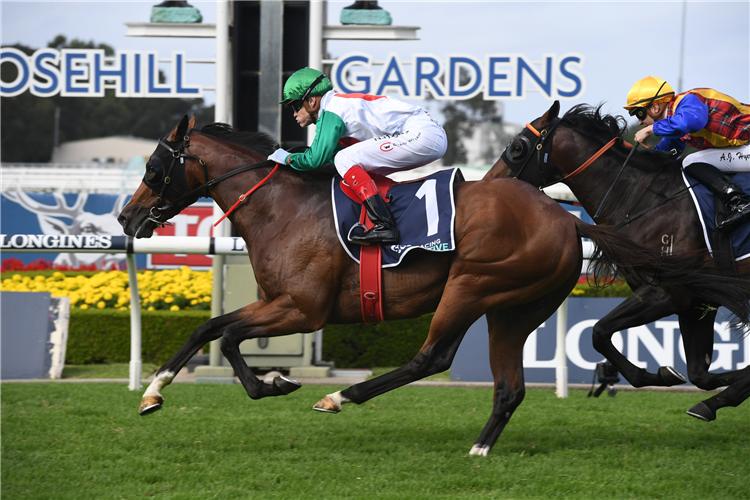 The Rosehill Guineas is a Group 1 race for three year olds conducted by the Australian Turf Club at Rosehill Gardens.
The Rosehill Guineas was first run in 1910 and was won by Electric Wire.
The Rosehill Guineas is run over 2000m under set weight conditions and has been run at that trip since 1948. It is the traditional lead up to the ATC Australian Derby.
The Canterbury Guineas was the normal first leg of the Sydney Autumn 3yo Triple Crown but that changed in 2006 when that race was reduced to a mile and became the Randwick Guineas. The Rosehill Guineas has been more of a stayers race.
Since the Randwick Guineas came into existence, only Metal Bender (2009), Dundeel (2013) and The Autumn Sun (2019) have done the double.
There have only been 8 fillies win the Rosehill Guineas - Carlita (1914), Furious (1921), Tea Rose (1944), Questing (1945), Wenona Girl (1960), Deck The Halls (1981), Spirit Of Kingston (1985), Riverina Charm (1989).
That said the fillies tend to run a week later against their own sex but those that take on the boys have run very good races. Jameka, Silent Achiever, Shamrocker, Run For Naara, Nevis, Sunday Joy and Tycoon Lil have all placed since the last filly winner.
Despite being the obvious lead up to the Derby, only 7 times in the last 27 years has the double been done (Naturalism, Innocent King, Octagonal, Sky Heights, Eremein, Dundeel, Criterion).
New Zealand Derby form can stand up in the Rosehill Guineas. Even with the NZ Derby now run later in the season, it has produced 3 of the last 10 winners.
The Autumn Sun ended his stellar but short career winning in 2019 with a record of 8 wins from 9 starts after winning this.
In 2020 the Rosehill Guineas was worth $600,000.
Between 1992 & 1999, five times the Victoria Derby runner up won the Rosehill Guineas (Naturalism, Danewin, Octagonal, Tie The Knot, Sky Heights).
Notable Winners of the Rosehill Guineas include Furious (1921), Amounis (1925), Phar Lap (1929), Ajax (1937), Tea Rose (1944), Hydrogen (1951), Tulloch (1957), Wenona Girl (1960), Eskimo Prince (1964), Imagele (1973), Dulcify (1979), Kingston Town (1980), Strawberry Road (1983), Surfers Paradise (1991), Naturalism (1992), Danewin (1995), Octagonal (1996), Tie The Knot (1998), Sky Heights (1999), Dundeel (2013), Criterion (2014), The Autumn Sun (2019) and Castelvecchio (2020).
The 2020 Rosehill Guineas was won by Castelvecchio from Prince Fawaz and Reloaded.

Previous Rosehill Guineas Winners
Related News