Type atleast three letters to find.
South Australian Derby
Australia | FEATURE RACE GUIDE
History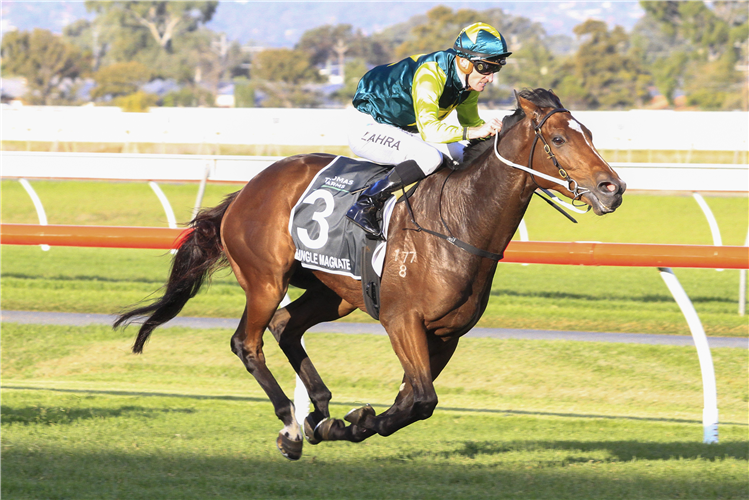 The South Australian Derby is a Group 1 race for three year olds conducted by the South Australian Jockey Club at Morphettville.
The South Australian Derby was first run in 1860 and was won by Midnight.
The South Australian Derby is run over 2500m under Set Weights conditions.
Fillies don't run often but when they do they are usually competitive (Qafila, Delicacy, Scratchy Bottom/Zarita/Showella/Mapperley Heights/English Wonder) have run well when contesting.
Over the year's Bart Cummings was the hero of the training ranks with ten wins. Cliff Brown had a run of three in six years some 20 years ago. Darren Weir trained three winners of the Derby in a row as well.
Ben Melham, Greg Childs and Danny Nikolic had a couple of wins each in the last 25 years but the jockeys had shared it around. That was until John Allen came along and he has won 4 of the last 7 editions.
Six horses have won the Chairman's Stakes/SA Derby double - Markham (1997), Mummify (2003), Rebel Raider (2009), Howard Be Thy Name (2016), Leicester (2018) and Jungle Magnate (2022).
Tails of Triomphe won the 2005 SA Derby despite never having previously set foot on a metropolitan racetrack to race in eleven starts.
The Derby has produced some decent Melbourne Cup form over the years.
Russian Camelot won brilliantly coming from last in 2020. He was a European bred youngster so gave away six months in experience to his rivals. He was a big player the following Spring too becoming the first SA Derby winner in a long time to win an open age G1 (Underwood Stakes).
Explosive Jack added the South Australian Derby to his Tasmanian and Australian Derby wins with a demolition in 2021.
The 2022 edition was run for prize money of $502,250.
Notable winners of the South Australian Derby include Gatum Gatum (1961), Ziema (1964), Shiva's Revenge (1991), Subzero (1992), Count Chivas (1995), Showella (1999), Mummify (2003), Rebel Raider (2009), Delicacy (2015), Russian Camelot (2020), Explosive Jack (2021) and Jungle Magnate (2022).
The 2022 South Australian Derby was won by Jungle Magnate from Yaphet and Detonator Jack.

Previous South Australian Derby Winners
Related News