Type atleast three letters to find.
Stradbroke Handicap
Australia | FEATURE RACE GUIDE
History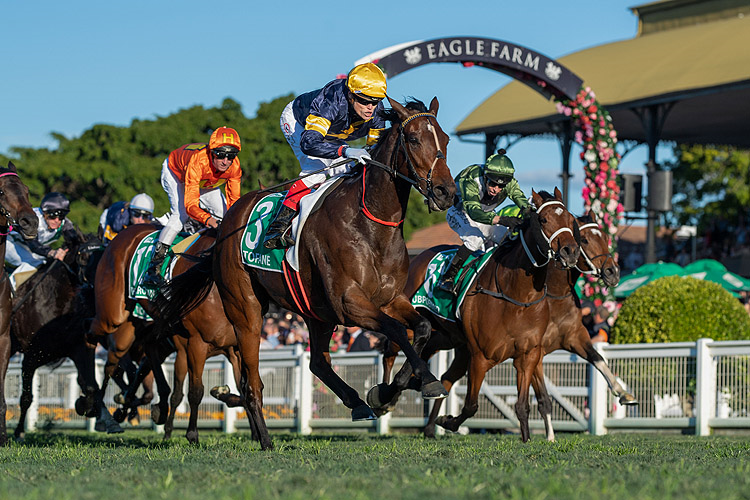 The Stradbroke Handicap is a Group 1 race for open class sprinters conducted by the Brisbane Racing Club as part of the Queensland racing carnival.
The Stradbroke Handicap was first run in 1890 won by Pyrrhus.
The Stradbroke Handicap is run under handicap conditions and is usually run over 1400m at Eagle Farm but in 2017/2018 was over 1350m at Doomben, the same as 2015. It was back to Eagle Farm in 2019.
No horse has done the 10,000/Stradbroke double since Campaign King did it in 1988. 10,000 placegetters have done well like Black Piranha, Private Steer, Show a Heart, Adam etc.
QTC (Moreton) Cup winners have an absolutely shocking record in the Stradbroke with no dual winners.
Before Black Piranha, only outright favourite to win since 1996 was Private Steer in 2003. Trekking was a wide fav in 2019.
Only two winners have carried more than 56kg to win in the last 40 years (Rough Habit and Campaign King).
Black Piranha 2009/10 was the first horse to won two Stradbrokes since Rough Habit in 1991/92.
Last 3yo to win was Impending in 2017. Before him it was Sincero in 2011.
Last mare to score was Tofane in 2021 and the last filly was La Montagna in 2006.
Since 2000 only Show a Heart, Black Piranha (2010), Santa Ana Lane and Tofane had won a G1 prior to their Stradbroke win.
When Rough Habit won his Stradbrokes, he did it both times dropping in journey. He won by panels in 1991 after taking the Hollindale at 1800m beforehand. He did the same thing in 1992. He then would step up over 600m more to win the Doomben Cup run after the Stradbroke in those days.
Coming off his Goodwood win, Santa Ana Lane won another G1 at big odds in the Stradbroke and would end the year in the Everest and also winning the VRC Sprint Classic. He came back and took the TJ Smith in the Autumn.
Has been a great race for Victorian jockeys with many recent winners.
Following Trekking's win, he came back in the Spring to win the Schillaci and then place in the Everest.
In fact 3 of the last 4 winners either had run in or would go on to run in an Everest.
The 2021 Stradbroke was worth $1,500,000 in prizemoney.
Past winners of the Stradbroke Handicap include Wiggle (1958), Persian Lyric (1961), Winfreux (1965), Cabochon (1968), Divide And Rule (1970), Rajah Sahib (1971), Triton (1972), Campaign King (1988), Rough Habit (1991/1992), All Our Mob (1994), Dane Ripper (1997), Show A Heart (2002), Private Steer (2003), Black Piranha (2009/2010), Srikandi (2015), Santa Ana Lane (2018), Trekking (2019) and Tofane (2021).
The 2021 Stradbroke Handicap was won by Tofane from Vega One and Signore Fox.

Previous Stradbroke Handicap Winners
Related News