Type atleast three letters to find.
Sydney Cup
Australia | FEATURE RACE GUIDE
History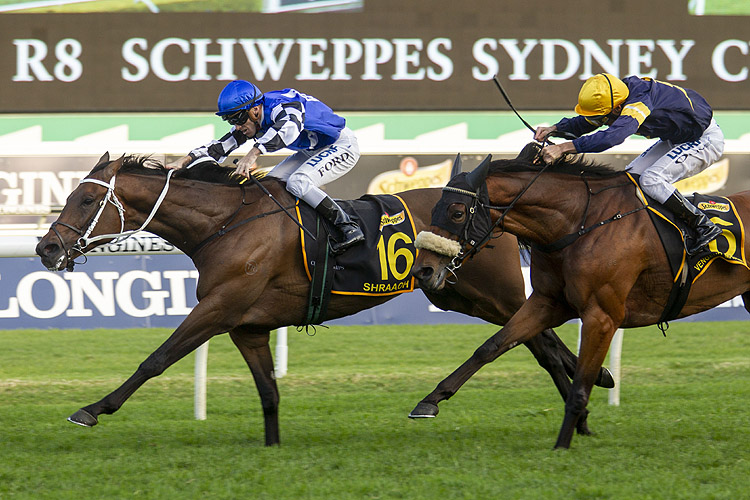 The Sydney Cup is a Group 1 race for Open Class horses conducted by the Australian Turf Club at Randwick. It is one of the few two mile races left in the country run at the top level.
The Sydney Cup was first run in 1866 and was won by Yattendon.
The Sydney Cup is run over two miles under Handicap conditions. They ran it at Rosehill once in 1942.
Not many mares win with the previous mare winner being Jessicabeel (2010). Before that it was Makybe Diva (2004).
An amazing 30 x 3yos have won the Sydney Cup. However the previous 3yo winner was Tie The Knot (1998).
Old time trainers hold the record with Dan Lewis (5) and James Wilson Snr (4).
There are multiple leading winners of the Sydney Cup for jockeys. They are Jim Cassidy (3), Peter Cook (3), Tom Hales (3), George Moore (3), Noel McGrowdie (3), Darby Munro (3), Neville Sellwood (3) and Albert Wood (3).
The Chairman's Hcp has been the best lead in race. 12 of the last 25 come through the Randwick event. The Tancred (BMW) Stks is really the only other one of note with 6 off that race.
Melbourne Cup-Sydney Cup double same season – Lord Cardigan (1903-04), Straight Draw (1957-58), Galilee (1966-67), Makybe Diva (2003-04).
County Tyrone contested an amazing six Sydney Cups with finishes of 2nd, 4th, 2nd, 1st, 8th & 4th along with competing in multiple Melbourne and Brisbane Cups.
Who Shot Thebarman finally won the race in 2018. He officially contested five but via that voided 2017 race he actually ran in six. His results were 9th (2014), 2nd (2015), 4th (2016), 2nd (2017), 1st (2018).
The Barb carried 67kg to win in 1869.
Weights: Recent winners to carry above 56kg: Tie The Knot (57kg – 1999), Mourayan (58kg – 2013).
The 2019 Sydney Cup was worth $2million.
There was great drama in the 2017 edition when Almoonqith broke down out of the straight the first time and was prone on the track. Stewards ruled because he couldn't be moved that the race was abandoned with the field about 1000m out.
However some kept running and Polarisation was first past the post. It was decided to re-run the race a fortnight later. Amazingly Polarisation won the race again for Godolphin.
Multiple winners of the Sydney Cup are The Barb (1868, 1869), Carbine (1889, 1890), Mosaic (1939, 1940), Veiled Threat (1942, 1944) and Tie The Knot (1998, 1999).
Other notables include Wakeful (1902), Rogilla (1933), Carbon Copy (1949), Carioca (1953), Straight Draw (1958), Galilee (1967), Battle Heights (1974), Kingston Town (1980), Makybe Diva (2004) and Who Shot Thebarman (2018).
That 2019 Sydney Cup was won by Shraaoh from Vengeur Masque and Glory Days.

Previous Sydney Cup Winners
Related News