Type atleast three letters to find.
Vinery Stud Stakes
Australia | FEATURE RACE GUIDE
History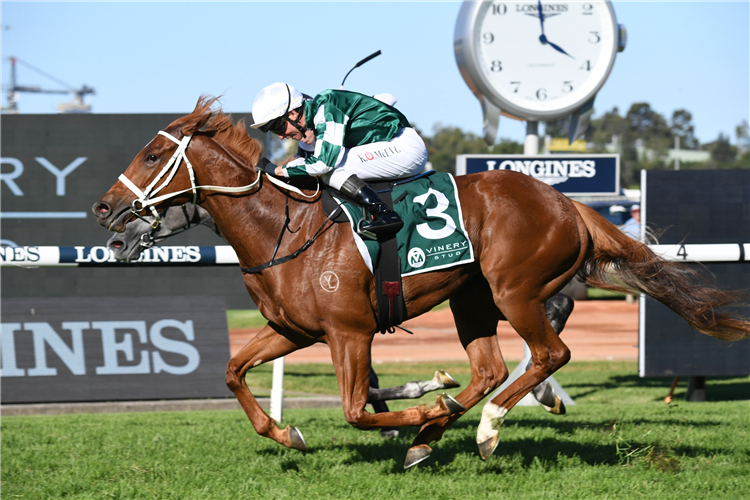 The Vinery Stud Stakes is a Group 1 race for three year old fillies conducted by the Australian Turf Club at Rosehill Gardens.
The Vinery Stud Stakes was first run in 1979 and was won by Impede.
The Vinery Stud Stakes is run over 2000m under Set Weights conditions. It was a G2 race until 1992.
The race is registered as the Storm Queen Stakes but has had numerous sponsors through the years.
Bart Cummings is the most successful trainer with four while Mick Dittman has three wins to his name as leading jockey.
Historically the most prevalent form leading into the Vinery Stud Stakes has been via the Coolmore Classic or the Keith Nolan (Kembla Grange) Classic.
VRC Oaks form has been sensational over the years. From 1989 onwards Research, Slight Chance, Northwood Plume, Saleous, Special Harmony, Hollow Bullet, Serenade Rose, Miss Finland, Faint Perfume, Mosheen all won both races.
Mirjulisa Lass and Montoya's Secret are the only horses in recent years to win this race after starting in a non-black type race the outing prior.
The Storm Queen/ATC Oaks double has only been done seven times – Sheraco (1982), Research (1989), Alcove (1994), Danendri (1997), Serenade Rose (2006), Heavenly Glow (2008) and Verry Elleegant (2019).
The quinella from 2018 would repeat in the Oaks but the other way around as Hiyaam could not hold off Unforgotten over the longer trip.
Miss Finland won the Golden Slipper and the Storm Queen in consecutive years becoming the only horse to achieve that.
Shout The Bar won at her fourth start giving Gai Waterhouse and Adrian Bott their third week in a row of G1 success in 2020. She also provided Adam Hyeronimus with his first G1 win.
In 1989 Research won this race and then would take out the Derby and the Oaks all within the space of 11 days.
The Vinery Stud Stakes was worth $500,000 in 2021.
Notable winners of the Vinery Stud Stakes include English Wonder (1983), Centaurea (1985), Research (1989), Slight Chance (1993), Saleous (1996), Champagne (1998), Special Harmony (2004), Serenade Rose (2006), Miss Finland (2007), Mosheen (2012), Lucia Valentina (2014), Single Gaze (2016), Verry Elleegant (2019) and Hungry Heart (2021).
The 2021 Vinery Stud Stakes was won by Hungry Heart from Harmony Rose and Impecunious.

Previous Vinery Stud Stakes Winners
Related News