Type atleast three letters to find.
Prix de l'Arc de Triomphe
France | FEATURE RACE GUIDE
History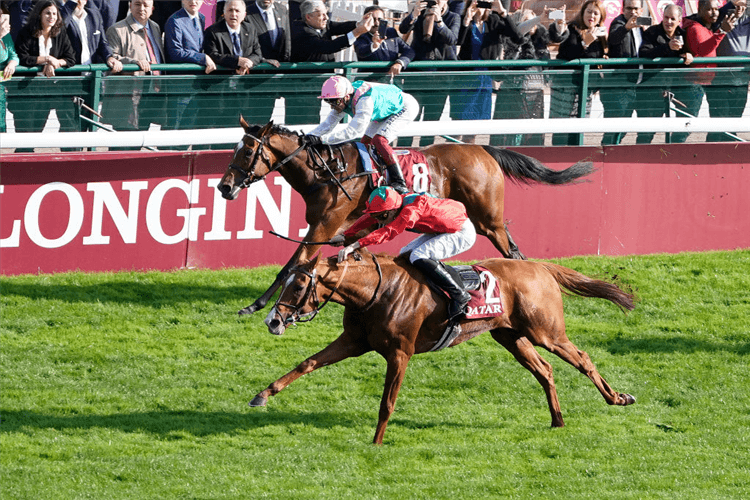 The Prix de l'Arc de Triomphe is a Group 1 race run under Weight For Age conditions for three year olds and up (but not geldings) at Longchamp conducted by France Galop.
The Prix de l'Arc de Triomphe is run over 2400m. It was first run in 1920 and was won by Comrade.
It is the most famous race in France and one of the biggest in world racing alongside the Derby, Melbourne Cup, Japan Cup, Dubai World Cup and Kentucky Derby.
In marketing the race, it was once described this way - "Ce n'est pas une course, c'est un monument" – "It's not a race, it's a monument".
It is only relatively young by European standards being just under 100 years old. The Arc was born just after WWI and celebrated the victory and the historic memorial.
The race was not run at the start of WWII then two editions were run at Le Tremblay.
Eight horses have won it twice – Ksar, Motrico, Corrida, Tantieme, Ribot, Alleged, Treve and Enable.
Several times the race has been won on protest including Priori, Saint Crespin and Rainbow Quest.
Frankie Dettori has the most Arc wins with six including some champion 3yos like Lammtarra, Golden Horn and Enable.
Andre Fabre holds the record as trainer with eight with his most recent being Waldgeist in 2019 following on from Rail Link in 2006.
There have been winners trained out of five countries – France (67), Great Britain (15), Ireland (8), Italy (6) and Germany (2).
Australian horse Strawberry Road finished fifth in the 1984 Prix de l'Arc de Triomphe while So You Think (then with Aidan O'Brien) ran fourth in 2011.
Since 1994, there have 26 Arcs with the three year olds winning 18 of them.
Urban Sea won the 1993 edition and she produced the likes of Galileo, Black Sam Bellamy and the mighty Sea The Stars who also won the Arc in 2009.
Enable chased history in 2019 but was beaten in the last 100m by Waldgeist.
The 2016 and 2017 editions were run at Chantilly as Longchamp was under its long term redevelopment.
The last non-French winner was Enable in 2018 for John Gosden.
The Prix de l'Arc de Triomphe was worth €5,000,000 in 2019.
Notable winners of the Prix de l'Arc de Triomphe include Enable (2017/2018), Found (2016), Golden Horn (2015), Treve (2013/2014), Workforce (2010), Sea The Stars (2009), Zarkava (2008), Rail Link (2006), Sinndar (2000), Montjeu (1999), Peintre Celebre (1997), Helissio (1996), Lammtarra (1995), Carnegie (1994), Urban Sea (1993), Suave Dancer (1991), Dancing Brave (1986), Sagace (1984), Alleged (1977/1978), Allez France (1974), Mill Reef (1971), Sea Bird (1965), Ballymoss (1958), Ribot (1955/1956), Tantieme (1950/1951), Djebel (1942), Corrida (1936/1937), Brantome (1934), Motrico (1930/1932), Pearl Cap (1931) and Ksar (1921/1922).
The 2019 Prix de l'Arc de Triomphe was won by Waldgeist from Enable and Sottsass.

Previous Prix de l'Arc de Triomphe Winners