Type atleast three letters to find.
Prix Jean-Luc Lagardere
France | FEATURE RACE GUIDE
History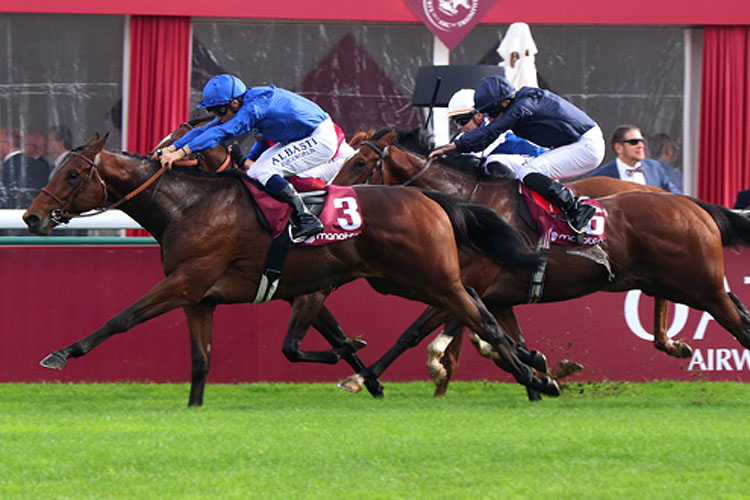 The Prix Jean-Luc Lagardere is a Group 1 race run under Set Weight conditions for two year old colts and fillies at Longchamp conducted by France Galop.
The Prix Jean-Luc Lagardere is run over 1600m. It was first run in 1853 and was won by Celebrity. It was known as the Grand Criterium.
It is one of the five Group 1s in France for only two year olds.
It is named after famous owner and breeder Jean-Luc Lagardere who was France Galop President.
The race was not run in WWI and during WWII there were some differing versions of the race at Auteuil and Le Tremblay.
After being a mile for many years, the Prix Jean-Luc Lagardere was reduced to 1400m in 2001 as part of a race restructuring. From 2015 it went back to 1600m.
The Prix Jean-Luc Lagardere is run on Prix de l'Arc de Triomphe day.
The 2016 and 2017 editions were run at Chantilly as Longchamp was under its long term redevelopment.
There have been some protests upheld in recent years including Barathea Guest losing it in 1999. But maybe the most infamous was Gleneagles relegated to third in 2014.
Jockeys George Stern and Roger Poincelet won the race six times while Henry Jennings has 11 victories as a trainer.
The last non-French winner was Royal Marine in 2018 for Saeed bin Suroor.
The Prix Jean-Luc Lagardere was worth €400,000 in 2019.
Notable winners of the Prix Jean-Luc Lagardere include Victor Ludorum (2019), Karakontie (2013), Olympic Glory (2012), Holy Roman Emperor (2006), Oratorio (2004), Rock Of Gibraltar (2001), Arazi (1991), Hector Protector (1990), Green Forest (1981), Recitation (1980), Irish River (1978), Blushing Groom (1976), My Swallow (1970), Sir Ivor (1967), Hula Dancer (1962), Right Royal (1960), Bella Paola (1957), Sicambre (1950), Tantieme (1949), Brantome (1933), Epinard (1922) and Val d'Or (1904).
The 2019 Prix Jean-Luc Lagardere was won by Victor Ludorum from Alson and Armory.

Previous Prix Jean-Luc Lagardere Winners