Type atleast three letters to find.
Prix Kergorlay
France | FEATURE RACE GUIDE
History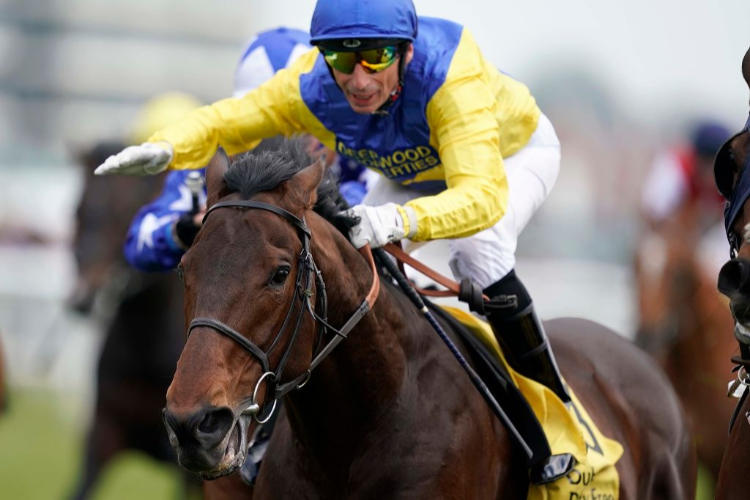 The Prix Kergorlay is a Group 2 race run under Set Weight and penalties conditions for three year olds and up at Deauville conducted by France Galop.
The Prix Kergorlay is run over 3000m. It was first run in 1864 and was won by Nobility. It was originally called the Prix de la Société d'Encouragement.
It was conducted at the first Deauville meeting. It changed in name to the Prix de Longchamps and in distance to 2800m then 2600m before going back up to 3400m.
On the death of the former Chairman of Deauville Florian de Kergorlay it was renamed again in 1911.
The race was not run during WWI and then again at the start of WWII before being run at Le Tremblay and Longchamp for a couple of years each.
The Prix Kergorlay has become a vital guide to the Melbourne Cup with several winners of both races plus others who've contested it before heading south.
Americain did the double with the Geelong Cup in between in 2010. A year on Dunaden actually ran ninth at Deauville but then did the Geelong/Melbourne Cup double as well.
In 2014 Protectionist won the Kergorlay and was so impressive at Flemington. Marmelo would run favourite in the 2017 Melbourne Cup.
Marmelo won in 2017 then ran second in 2018 and was then in front in the Melbourne Cup with 200m to go before Cross Counter grabbed him. He'd then win the race again in 2019.
Back in 1987, Almaarad won for John Dunlop then was sent to Australia where Colin Hayes trained him to win races including the 1989 Cox Plate.
Five horses have won the race twice – Fourire, Sea Sick, La Francaise, Ardan and Celadon.
Most jockey wins are shared at four by Arthur Watkins, George Stern, Jacques Doyasbere, Maurice Philipperon and Cash Asmussen.
Henry Jennings has trained most Kergorlay winners at nine.
The last non-French winner was Marmelo in 2019 for Hughie Morrison.
The Prix Kergorlay was worth €130,000 in 2019.
Notable winners of the Prix Kergorlay include Marmelo (2017/2019), Holdthasigreen (2018), Protectionist (2014), Joshua Tree (2012), Jukebox Jury (2011), Americain (2010), Persian Punch (2000), Kayf Tara (1999), Arctic Owl (1998), Classic Cliche (1997), Turgeon (1991), Almaarad (1987), Celadon (1963/1965), Souverain (1947), Ardan (1945/1946), Marsyas (1944), La Francais (1911/1912), Sea Sick (1909/1910), Maintenon (1906), Fourire (1899/1900).
The 2019 Prix Kergorlay was won by Marmelo from Call The Wind and Haky.

Previous Prix Kergorlay Winners