Type atleast three letters to find.
Prix Rothschild
France | FEATURE RACE GUIDE
History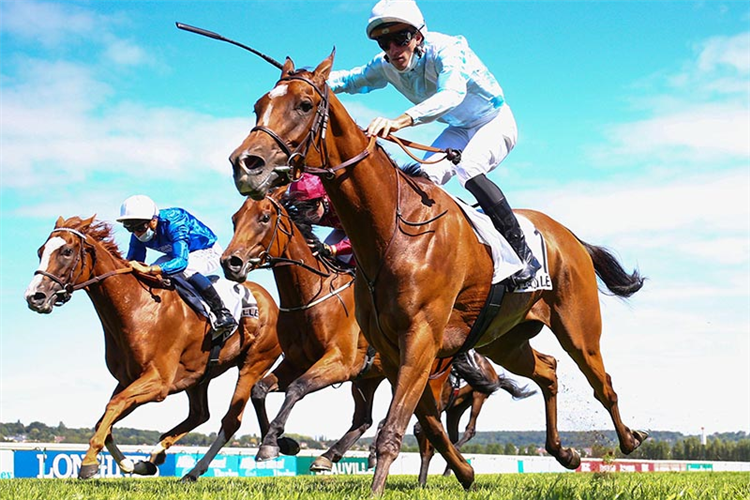 The Prix Rothschild is a Group 1 race run under Weight For Age conditions for fillies and mares at Deauville conducted by France Galop.
The Prix Rothschild is run over 1600m. It was first run in 1929 and was won by Tivoli.
Being a mares race, the Prix Rothschild was originally the Prix d'Astarte with Astarte a fertility goddess.
In 2008 the race was given the name Prix Rothschild after Guy de Rothschild, the renowned banker and breeder.
When grading was introduced in 1971, it was a Group 3. In 1982 it was a G2 and from 2004 a G1.
The race was not run in 1940 during WWII and a few times afterwards. In those war years it was run at Longchamp and Le Tremblay.
In the last 20 years, fillies have won it 10 times and mares 10 times.
Most wins as a jockey is with Freddy Head and Olivier Peslier with six apiece.
Five trainers share most wins with five victories – John Cunnington Snr, Francois Mathet, David Smaga, Andre Fabre and Freddy Head.
The great French mare Goldikova won the race in four consecutive years starting from 2008.
Top mare Laurens made it six G1 wins in taking the race in 2019.
The last non-French winner was Laurens in 2019 for Karl Burke.
The Prix Rothschild was worth €150,000 in 2020 reduced by coronavirus.
Notable winners of the Prix Rothschild include Watch Me (2020), Laurens (2019), Roly Poly (2017), Qemah (2016), Amazing Maria (2015), Esoterique (2014), Elusive Kate (2012/2013), Goldikova (2008/2009/2010/2011), Mandesha (2006), Divine Proportions (2005), Hatoof (1994), Luth Enchantee (1983) and Sanedtki (1977).
The 2020 Prix Rothschild was won by Watch Me from Half Light and Know It All.

Previous Prix Rothschild Winners
Related News