Type atleast three letters to find.
Irish Champion Stakes
Ireland | FEATURE RACE GUIDE
History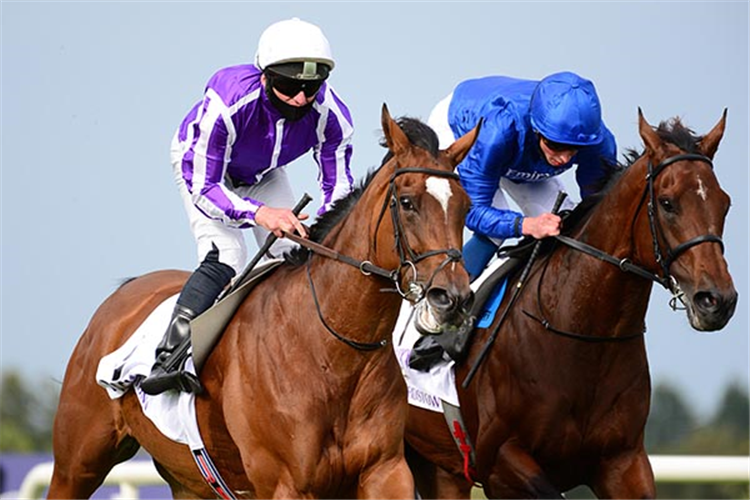 The Irish Champion Stakes is a Group 1 race run under Weight For Age conditions for open class horses at Leopardstown conducted by the Leopardstown Racecourse for Horse Racing Ireland.
The Irish Champion Stakes is run over the mile and a quarter. It was first run in 1976 and was won by Malacate.
This was originally known as the Joe McGrath Memorial Stakes after the founder of the Irish Hospitals' Sweepstakes.
After being moved in 1984 to Phoenix Park and renamed the Phoenix Champion Stakes, it came back to Leopardstown in 1991.
The race forms part of Irish Champions weekend and is one of the richest races in Europe.
It is a great guide to other feature events on the Arc program and the British Champions day too. It even provides form for Breeders' Cup weekend.
One of the superb clashes was Fantastic Light and Galileo, singling out and going nose for nose for 2001.
Golden Horn won in good fashion in 2015 before taking the Prix de l'Arc de Triomphe at his next run. The great Sea The Stars did a similar thing in 2009.
So You Think was tough in beating Snow Fairy in 2011 and then she would get her just desserts a year on.
Fantastic 3yo Roaring Lion was in the middle of a great 2018 season, winning his third open age G1 in a row at the mile and a quarter. He would end up with another win in the QEII Stakes and retired to stud but sadly developed colic and died in New Zealand.
Magical joined Dylan Thomas in 2020 as the only multiple winners of this race.
In the last decade, four 3yos have saluted.
Michael Kinane has ridden the winner on seven occasions while Aidan O'Brien has scored with nine winners as trainer.
The Irish Champion Stakes was worth €750,000 in 2020 due to coronavirus.
Notable winners of the Irish Champion Stakes include Magical (2019/2020), Roaring Lion (2018), Almanzor (2016), Golden Horn (2015), The Fugue (2013), Snow Fairy (2012), So You Think (2011), Sea The Stars (2009), New Approach (2008), Dylan Thomas (2006/2007), Azamour (2004), High Chaparral (2003), Grandera (2002), Fantastic Light (2001), Giant's Causeway (2000), Daylami (1999), Pilsudksi (1997), Pentire (1995), Dr Devious (1992), Suave Dancer (1991), Carroll House (1989), Triptych (1987) and Sadler's Wells (1984).
The 2020 Irish Champion Stakes was won by Magical from Ghaiyyath and Armory.

Previous Irish Champion Stakes Winners
Related News