Type atleast three letters to find.
Irish St Leger Stakes
Ireland | FEATURE RACE GUIDE
History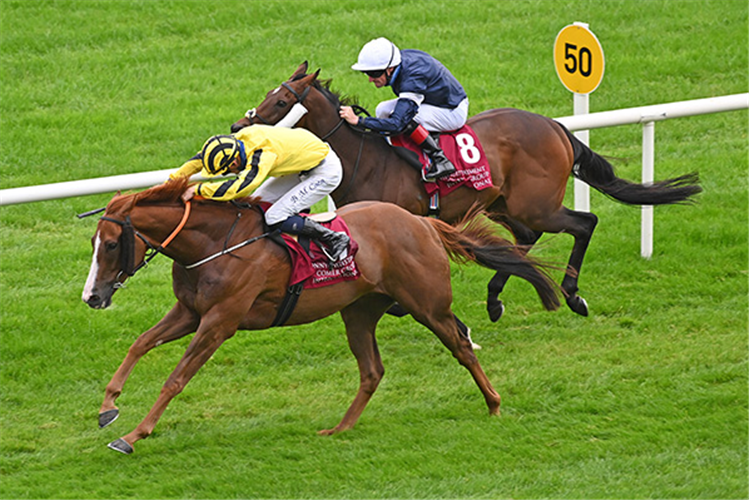 The Irish St Leger is a Group 1 race run under Weight For Age conditions for three year olds and up at the Curragh conducted by the Curragh Racecourse for Horse Racing Ireland.
The Irish St Leger is run over the 14 furlongs. It was first run in 1915 and was won by La Paloma.
As opposed to the English version, the Irish St Leger is eligible for geldings and also horses above three year old. It had been for the classic generation only until 1983.
The form out of the race has gone on to be Melbourne Cup form.
1986 winner Authaal came to Australia to be trained by Colin Hayes and won a Queen Elizabeth in Sydney and an Underwood Stakes in Melbourne.
In the first of his two victories, Vintage Crop won in 1993. He would head to Flemington that November and change the Melbourne Cup forever.
The great Vinnie Roe won four straight runnings from 2001. He would go on to run in three Melbourne Cups for Dermot Weld getting closest in 2004 when second to Makybe Diva.
Since the race becoming available for older horses, only one 3yo in the last 20 years had won it being Order Of St George in 2015 before Flag Of Honour did it in 2018 and then Search For A Song won as a filly.
Twilight Payment ran third in 2020 but then won the Melbourne Cup at his next outing.
Most wins as a jockey was with Morny Wing with seven victories while Vincent O'Brien and Dermot Weld won it nine times as a trainer.
The Irish St Leger was worth €500,000 in 2021.
Notable winners of the Irish St Leger include Sonnyboyliston (2021), Search For A Song (2019/2020), Flag Of Honour (2018), Order Of St George (2015/2017), Brown Panther (2014), Septemis (2008), Yeats (2007), Vinnie Roe (2001/2002/2003/2004), Kayf Tara (1998/1999), Oscar Schindler (1996/1997), Vintage Crop (1993/1994), Authaal (1986), Touching Wood (1982), Pidget (1972), Zarathustra (1954) and Trigo (1929).
The 2021 Irish St Leger was won by Sonnyboyliston from Twilight Payment and Baron Samedi.

Previous Irish St Leger Stakes Winners