Type atleast three letters to find.
Hanshin Juvenile Fillies
Japan | FEATURE RACE GUIDE
History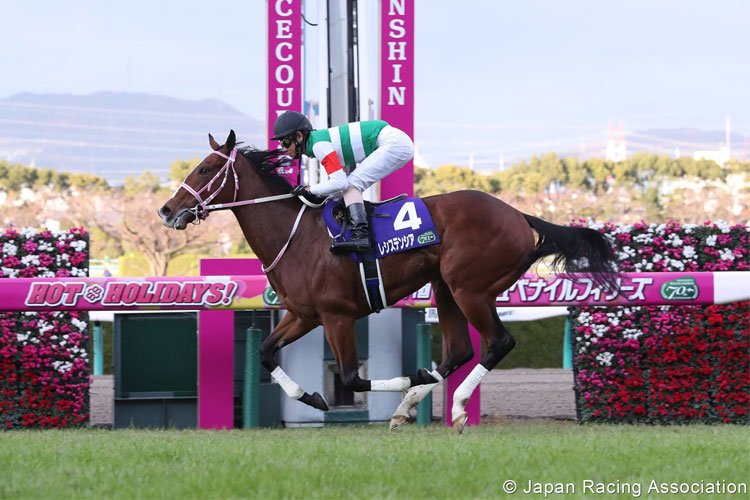 The Hanshin Juvenile Fillies is a Grade 1 race run under Set Weight conditions for two year old fillies at Hanshin racecourse conducted by the Japan Racing Association.
The Hanshin Juvenile Fillies is run over 1600m. It was first run in 1949.
The Hanshin Juvenile Fillies was worth JPY124,960,000 in 2019.
Hanshin racecourse is a right handed course with the start halfway up the back straight.
This is effectively the championship race for the 2yo fillies each year.
Some of those to graduate onto bigger things and do the Juvenile Fillies/Japanese Oaks double include Soul Stirring, Apapane and Buena Vista while Vodka won the Fillies and then would go on to win the Derby instead.
Resistencia won the Hanshin Juvenile Fillies in 2019 in an amazing 1:32.70.
Some of the big name riders to win this include Yutaka Take, Michael Kinane, Olivier Peslier and Christophe Lemaire.
Hiroyoshi Matsuda won it three times in four years from 2008.
Notable winners of the Hanshin Juvenile Fillies include Resistencia (2019), Soul Stirring (2016), Major Emblem (2015), Apapane (2009), Buena Vista (2008) and Vodka (2006).
The 2019 Hanshin Juvenile Fillies was won by Resistencia from Maltese Diosa and Cravache D'or.

Previous Hanshin Juvenile Fillies Winners