Type atleast three letters to find.
Shuka Sho
Japan | FEATURE RACE GUIDE
History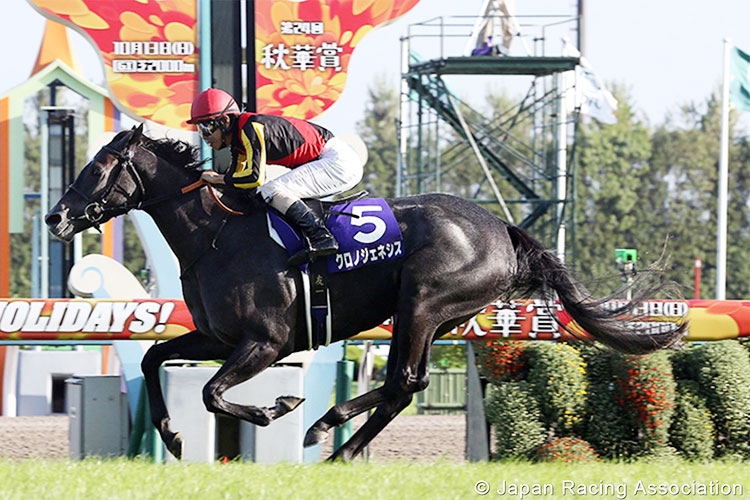 The Shuka Sho is a Grade 1 race run under Set Weight conditions for three year old fillies at Kyoto racecourse conducted by the Japan Racing Association.
The Shuka Sho is run over 2000m. It was first run in 1996 and was won by Fabulous La Fouine.
The Shuka Sho is the final leg of the Japanese Fillies Triple Crown after Oka Sho and the Yushun Himba.
In 1996 it was established as Domestic Grade 1 race, and in 2009 it was granted International Grade 1 status.
The Shuka Sho was worth JPY216,000,000 in 2019 (approx. AUD2.7million).
Kyoto racecourse is a right handed course with the start in the front straight with a short run to the first turn.
Gentildonna used this as her lead up to her first of two Japan Cups. Almond Eye had the same pattern in 2018.
Shonan Pandora was a Shuka Sho winner and a Japan Cup winner a year on.
Vivlos won a Shuka Sho and the next prep took the Dubai Turf. Deirdre tried the same pattern 12 months on but ran into Benbatl and Vivlos in Dubai.
Yataka Take has won it three times. Christophe Lemaire has the last couple.
Trainers have really shared this race around.
Notable winners of the Shuka Sho include Almond Eye (2018), Deirdre (2017), Vivlos (2016), Shonan Pandora (2014), Meisho Mambo (2013), Gentildonna (2012), Apapane (2010), Daiwa Scarlet (2007), Sweep Tosho (2004) and Still In Love (2003).
The 2019 Shuka Sho was won by Chrono Genesis from Curren Bouquetd'or and Shigeru Pink Dia.

Previous Shuka Sho Winners
Related News