Type atleast three letters to find.
Takamatsunomiya Kinen
Japan | FEATURE RACE GUIDE
History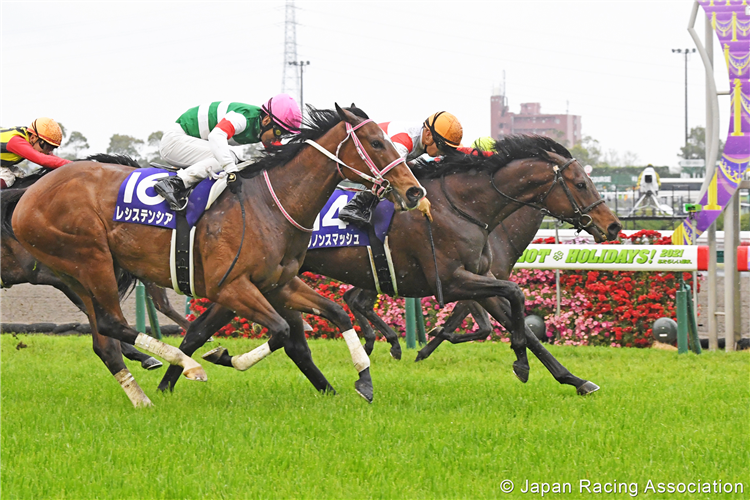 The Takamatsunomiya Kinen is a Grade 1 race run under Weight For Age conditions for four year olds and above at Chukyo racecourse conducted by the Japan Racing Association.
The Takamatsunomiya Kinen is run over 1200m.
It was started as the Takamatsunomiya Hai when the victory cup was designed by Prince Takamatsu in 1971.
Given Domestic Grade 2 status when race grading was introduced to Japan in 1984, it was run over a distance of 2000m.
It was then shortened to 1200m and elevated to Domestic Grade 1 in 1996 and now to its present level in 2006.
Horses trained outside Japan have been eligible to run in the race since 2001. It was renamed in 1998 because the family of Prince Takamatsu stopped designing the victory cup.
It is also the only JRA Grade 1 race not run in their 4 major racecourses of Tokyo, Nakayama, Hanshin and Kyoto.
The Takamatsunomiya Kinen was worth JPY281,800,000 in 2021.
Chukyo racecourse is a left handed course with the sprint start halfway up the back straight.
The 2011 Takamatsunomiya Kinen was run at Hanshin.
The five year olds have dominated in the last 23 years with 12 taking it out.
One of the great Japanese sprinters Lord Kanaloa won the race in 2013. He also won Sprinters Stakes x 2, Hong Kong Sprint x 2 and Yasuda Kinen in a sensational 15 month period.
Hong Kong's Aerovelocity for Paul O'Sullivan and Zac Purton scored in 2015. The gelding won in three different countries in four starts after a Hong Kong Sprint and Krisflyer in Singapore surrounded his Takamatsunomiya Kinen.
There was controversy in the 2020 Takamatsunomiya Kinen as roughie Mozu Superflare was awarded the race following a protest when Kurino Gaudi caused interference to multiple runners.
The most successful recent jockeys are Shinji Fujita and Yuichi Fukunaga with three wins.
Mitsuru Hashida, Noriyuki Hori, Takayuki Yasuda and Hidetaka Otonashi have multiple recent victories as a trainer.
Notable winners of the Takamatsunomiya Kinen include Danon Smash (2021), Fine Needle (2018), Big Arthur (2016), Aerovelocity (2015), Lord Kanaloa (2013), Curren Chan (2012), Kinshasa No Kieseki (2010/2011), Suzuka Phoenix (2007), Admire Max (2005), Believe (2003), Shinko Forest (1998) and Shinko King (1997).
The 2021 Takamatsunomiya Kinen was won by Danon Smash from Resistencia and Indy Champ.

Previous Takamatsunomiya Kinen Winners
Related News