Type atleast three letters to find.
Tenno Sho (Autumn)
Japan | FEATURE RACE GUIDE
History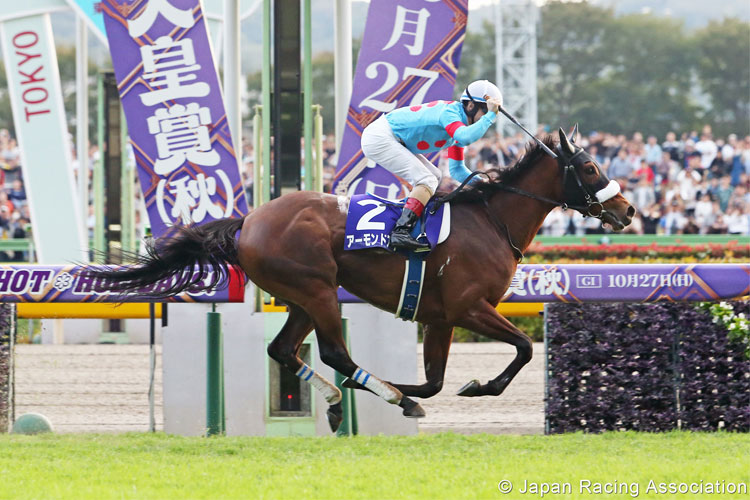 The Tenno Sho (Autumn) is a Grade 1 race run under Weight For Age conditions for three year olds and above at Tokyo racecourse conducted by the Japan Racing Association.
The Tenno Sho (Autumn) is run over 2000m. It was first run in 1937 and was won by Happy Might.
The Tenno Sho (Spring) is run over two miles but the Autumn version is much shorter.
The Tenno Sho refers to the Emperor's Prize. The Spring equivalent is run in April.
Prior to the 2007 races, both Tenno Sho races were just Japanese domestic Grade I's.
The Tenno Sho (Autumn) was worth JPY325,000,000 in 2019 (approx. AUD4million).
Tokyo racecourse is a left handed course with the start out of the home straight and a short run to the first turn.
The five year olds have been the ones to follow winning eight times since 2005.
Prior to 1980, a horse winning the Tenno Sho races was not allowed to participate in future editions but the ban was lifted in 1981. Only two horses have won the prize three times – Kitasan Black (2016 Autumn, 2017 Spring and Autumn) and TM Opera O (2000 Spring and Autumn, 2001 Spring).
Maurice used the 2016 Tenno Sho (Autumn) as his lead up to winning the Hong Kong Cup which would be his final career race start.
In a dominant performance, Almond Eye made her seasonal return by thrashing the field in 2019.
International jockeys have thrived here including the likes of Christophe Lemaire, Ryan Moore, Mirco Demuro, Christophe Soumillon and Olivier Peslier.
One trainer has made this race his own. Kazou Fujisawa has taken this out five times.
Notable winners of the Tenno Sho (Autumn) include Almond Eye (2019), Rey De Oro (2018), Kitasan Black (2017), Maurice (2016), Lovely Day (2015), Just A Way (2013), Buena Vista (2010), Vodka (2008), Meisho Samson (2007), Daiwa Major (2006), Zenno Rob Roy (2004), Symboli Kris S (2002/2003), TM Opera O (2000), Special Week (1999), Bubble Gum Fellow (1996), Mr C.B. (1984) and Shinzan (1965).
The 2019 Tenno Sho (Autumn) was won by Almond Eye from Danon Premium and Aerolithe.

Previous Tenno Sho (Autumn) Winners