Type atleast three letters to find.
Tokyo Yushun (Japanese Derby)
Japan | FEATURE RACE GUIDE
History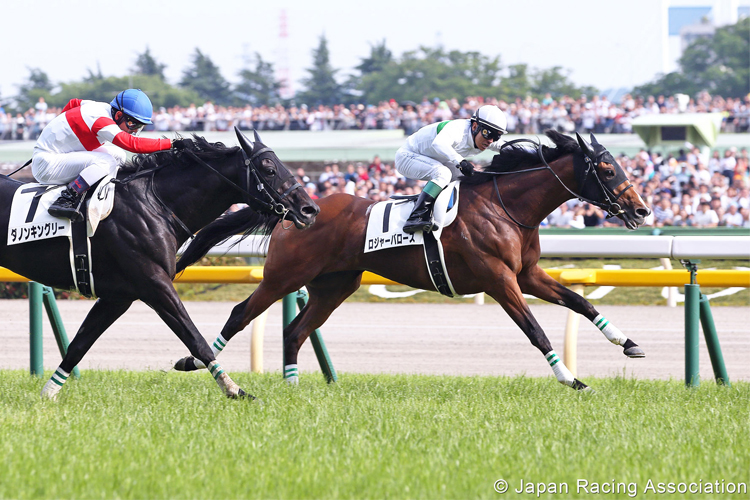 The Tokyo Yushun (Japanese Derby) is a Grade 1 race run under Set Weight conditions for three year old colts and fillies at Tokyo racecourse conducted by the Japan Racing Association.
The Tokyo Yushun (Japanese Derby) is run over 2400m. It was first run in 1932 and was won by Wakataka.
The Tokyo Yushun (Japanese Derby) was worth JPY432,000,000 in 2020.
Tokyo racecourse is a left handed course with the start halfway up the home running.
The Derby forms the middle pin of the Japanese Triple Crown after the 2000 Guineas and then the St Leger (Kikuka Sho).
Editions prior to 2001 (along with the other Japanese classics) were limited to Japanese-bred horses. Since 2001,
foreign-breds are allowed, but until 2010, this race (and the other classics) were limited to Japanese-trained horses. The current rule allows fielding at most seven entries either not bred/trained in Japan.
Many leading Japanese horses have won the Tokyo Yushun.
Deep Impact is one of the all-time greats of Japanese racing. He only lost twice with one coming in the Arc. The Derby win was a demolition. All his work off the course is as good, producing horses good enough to win G1s around the world including in Japan, Australia, Hong Kong, England, France and Dubai.
King Kamehameha went from winning the Mile Cup to the Derby three weeks later and defeated a top field in style.
Vodka was a filly good enough to win the Derby. She was beaten in the 1000 Guineas but subsequently took on the boys and won easily.
In 2019 Roger Barows won the race at huge odds outstaying all the favoured runners in a strongly run race.
Yutaka Take has taken five Japanese Derbies.
Several trainers have two recent wins including Tsutomu Setoguchi, Kunihide Matsuda, Yasuo Tomomichi and Katsuhiko Sumii.
Notable winners of the Tokyo Yushun (Japanese Derby) include Rey De Oro (2017), Duramente (2015), Kizuna (2013), Orfevre (2011), Vodka (2007), Meisho Samson (2006), Deep Impact (2005), King Kamehameha (2004), Neo Universe (2003), Jungle Pocket (2001), Special Week (1998), Narita Brian (1994), Tokai Teio (1991), Symboli Rudolf (1984), Mr. C.B. (1983), Shinzan (1964), Tokino Minoru (1951), Kurifuji (1943) and St Lite (1941).
The 2019 Tokyo Yushun (Japanese Derby) was won by Roger Barows from Danon Kingly and Velox.

Previous Tokyo Yushun (Japanese Derby) Winners