Type atleast three letters to find.
Yushun Himba (Japanese Oaks)
Japan | FEATURE RACE GUIDE
History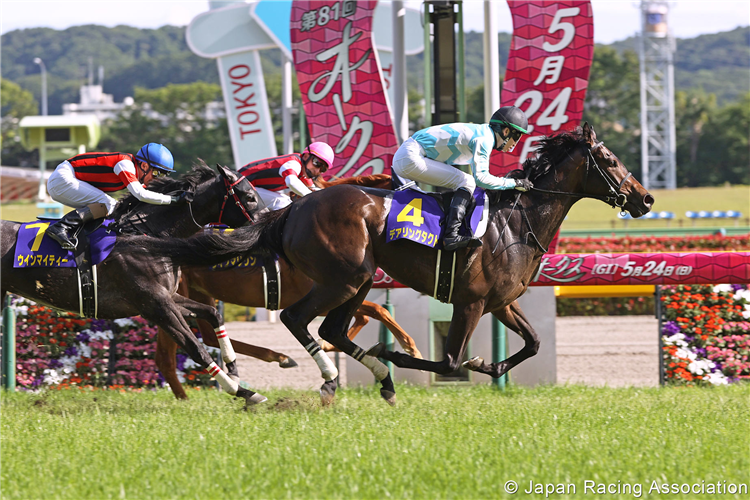 The Yushun Himba (Japanese Oaks) is a Grade 1 race run under Set Weight conditions for three year old fillies at Tokyo racecourse conducted by the Japan Racing Association.
The Yushun Himba (Japanese Oaks) is run over 2400m. It was first run in 1938 and was won by Asteri Mor.
The Yushun Himba (Japanese Oaks) was worth JPY247,880,000 in 2020.
Tokyo racecourse is a left handed course with the start halfway up the front straight.
When Apapane and Saint Emilion dead heated in 2010, it was the first Grade 1 D/H for a win in Japan.
Japan Cup memories have followed from winning the Japanese Oaks.
Buena Vista took out the Oaks by a nose and proved she could win from a mile to a mile and a half.
Gentildonna went straight from the Guineas to the Oaks and won by five lengths. She is still the only horse to win two Japan Cups.
Almond Eye showed her Japan Cup win was not a surprise given how she went at the same course and distance in the Oaks.
Daring Tact maintained her unbeaten winning record adding the Oaks to the 1000 Guineas.
The most successful recent jockey is Yuichi Fukunaga with three in the last 20 years.
Sakae Kunieda is one trainer with a multiple number of wins.
Notable winners of the Yushun Himba (Japanese Oaks) include Daring Tact (2020), Loves Only You (2019), Almond Eye (2018), Soul Stirring (2017), Meisho Mambo (2013), Gentildonna (2012), Apapane/Saint Emilion D/H (2010), Buena Vista (2009), Still In Love (2003), Air Groove (1996), Dance Partner (1995) and Kurifuji (1943).
The 2020 Yushun Himba (Japanese Oaks) was won by Daring Tact from Win Marilyn and Win Mighty.

Previous Yushun Himba (Japanese Oaks) Winners