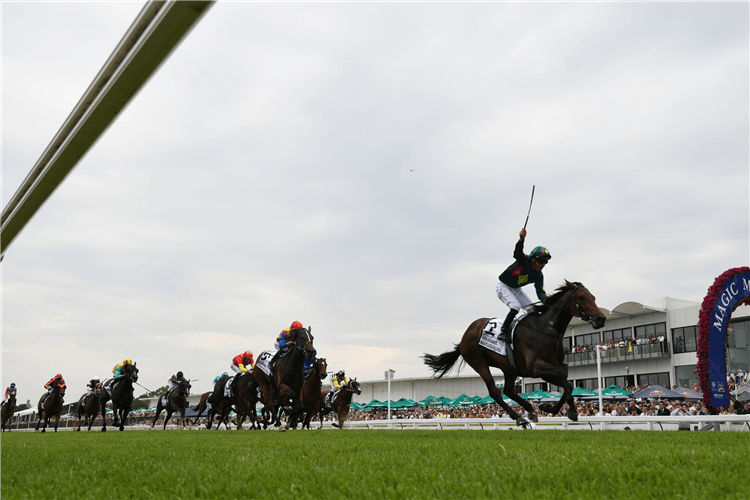 A delay on the way to the track turned out to be the biggest threat to Alligator Blood on Saturday, his Magic Millions Guineas rivals unable land a glove on him as he streeted away to record the biggest winning margin and highest Timeform rating in the race since Gold Edition won by five lengths and ran to 122 back in 2007.
Alligator Blood improved on his previous peak of 117 to be rated 118 and edged up the leaderboard in the race to be Timeform's Champion Three-Year-Old in the process.
Ignoring northern hemisphere-bred three-year-olds, there are fifteen from the current classic crop rated 115 or higher. Four of them are above 120. Exceedance (rated 125), Yes Yes Yes (125), Bivouac (124) and Castelvecchio (124) and that quartet have a put a (relatively) big gap between themselves and the rest of the crop.
They are the established stars and Alligator Blood now sits atop a group that we could label 'the next wave' with that rating of 118 bringing him in line with his Caulfield Guineas conqueror Super Seth.
With them sits Yao Dash... Who?!? This is where the ratings geeks lose the intuitive mob. Next in line is Shadow Hero and then the fillies Funstar and Loving Gaby. Three Group One winners, and they are ranked behind Yao who?
At the end of last season we looked at the idea of using Monte Carlo simulations to better speak for the ratings - which you can read here
"The numbers have no way of speaking for themselves. We speak for them. We imbue them with meaning." - Nate Silver.
I, like most, have little idea what the word imbue is all about but the rest of that makes sense and so does using Monte Carlo simulations to imbue (?) our rankings with a little bit more meaning.
Using a simple list of peak performances is fine but for many having Yao Dash, courtesy of one big run in the Golden Rose, equal with Alligator Blood, who has a string of performances at or around that level, ranges from unintuitive and not quite sitting right to being outrageous and cause for an aggressive Twitter rant either about or directly to the ratings clowns who dared share their stupid figures.
So let's see what our 'next wave' colts look like after taking into account their five most recent ratings and simulating a random race 10,000 times.

These results tell us a lot more about our rankings, taking more into account than just a single peak performance, and they reward Alligator Blood not just for his peak but for his consistency at that level.
Super Seth had the knock-out punch required on Guineas Day but when all runs are considered Alligator Blood deserves to be seen as the 'better' horse.
This method still throws up Yao Dash in a positive light. He can't be considered on par with Alligator Blood overall but that he got to this mark in just three starts is fairly remarkable. This is a factor in the simulation as well. With just three ratings to randomly select from instead of five the peak comes out more often, but this is intuitively squared off by the fact that he has had less opportunity to put together a full body of work. He has more theoretical upside.
So Alligator Blood is the winner of our 'new wave' race. For the sake of interest, let's assume that qualified him for a shot at the top end of town and throw him in against our established stars under the same method.

Under this method things get a bit tougher for the Alligator, winning just 2% of 10,000 simulated races against the top brass. Again we see a slight change in the rankings when consistency is considered with Bivouac getting back on top, where he sat after the Golden Rose, despite the subsequent big peaks from Exceedance and Yes Yes Yes.