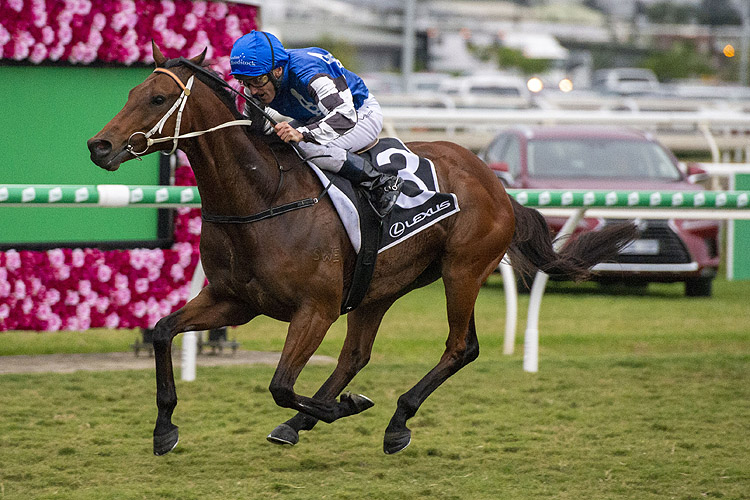 Sixties Groove appears headed in the right direction. He's the $4 elect in the 2020 Grafton Cup (2350m) at Grafton on Thursday.
2020 Grafton Cup: Race History
2020 GRAFTON CUP – MARKET
$4: Sixties Groove
$6: Carzoff
$6: Frankely Awesome
$8: The Lord Mayor
$8: La Pulga
*All others quoted at $11 or greater in full market.
WHEN IS THE 2020 GRAFTON CUP?
WHEN: – Race 7 @ 3:55pm AEST
WHERE: Grafton Racecourse
Racing and Sports has all the form for Grafton
* Note that betting odds may differ from time of publication

FP
Silk
Horse, Age & Sex
Sire & Dam
Jockey
Trainer
SP
WT

1st

1. SIXTIES GROOVE (IRE) 7yo G


SIXTIES ICON (GB) - GIFT DANCER (GB)

JASON COLLETT
KRIS LEES
$3.50
61.0kg
Australian Bloodstock, Mrs S Roy, Power Thoroughbreds, Shaw Family Racing, C G Lasnick, N C Fishwick, P G Walsh, B J Francis, M J Matthews, S J Shirtliff, S A Newton, Mrs L G Rutherford, Jacobsen Bloodstock Pty Ltd, A W Rohde, Ticket To Ride, D Healey, J Lovett, C D Renshaw & J P Hunter

2nd

5. THE LORD MAYOR (NZ) 5yo G


ROCK 'N' POP (AUS) - SOPH (NZ)

LEE MAGORRIAN
CHRIS WALLER
$9.00
56.0kg
M J Hughes, C J W Stewart & C E J Stewart

3rd

2. CARZOFF (FR) 7yo G


ZOFFANY (IRE) - CARTAMA (GB)

GLEN BOSS
CHRIS WALLER
$4.50
58.0kg
N A Greenhalgh, Mrs M T Greenhalgh, Nick Vass Bloodstock (Mgr: N Vass), Mrs A Vass, Mrs K Ackery, D M Ackery, Werrett Bloodstock Pty Ltd (Mgr: N R J Werrett), F W Cook, Mrs C M Cook, B M Howson, S L Thornton, N D Keevers, Grand Parkview Stud (Mgr: M W Timms) & A N Carrucan
4th
10. NEMINGAH (NZ) 4yo G


NOM DU JEU (NZ) - DUBAI BELLE (NZ)

MS RACHEL KING
EDWARD O'ROURKE
$31.00
54.0kg
5th
12. COMMANDER BELL (AUS) 4yo G


PIERRO (AUS) - HI BELLE (AUS)

MIKAYLA WEIR
BRETT PARTELLE
$61.00
54.0kg
6th
7. PRIMITIVO (AUS) 5yo G


SEBRING (AUS) - CLASSIC QUEST (USA)

JEAN VAN OVERMEIRE
JOHN P THOMPSON
$7.00
54.0kg
7th
6. LA PULGA (AUS) 4yo G


DREAM AHEAD (USA) - BARCELONA GIRL (AUS)

BEN LOOKER
MICHAEL COSTA
$8.00
54.5kg
8th
3. BIG DUKE (IRE) 8yo G


RAVEN'S PASS (USA) - HAZARAYNA (GB)

ANDREW GIBBONS
KRIS LEES
$15.00
57.5kg
9th
13. I'LL MISS YOU (AUS) 8yo M


TERANABA (AUS) - SARAB MISS (AUS)

RAYMOND SPOKES
MS J PRATTEN
$151.00
55.0kg
10th
11. CHAMPAGNE VEGA (AUS) 4yo G


LOPE DE VEGA (IRE) - PALME D'OR (AUS)

M MCGUREN
BRUCE W HILL
$31.00
55.0kg
11th
16. KILMARNOCK (AUS) 7yo G


HUSSON (ARG) - SALIX CAPREA (AUS)

SHANE ARNOLD
LEA SELBY
$201.00
54.0kg
12th
14. WINKLER (NZ) 6yo G


RIP VAN WINKLE (IRE) - ANNE CARINA (NZ)

KYLE WILSON-TAYLOR
ETHAN ENSBY
$151.00
54.0kg
13th
9. PARTNERSHIP (NZ) 4yo G


TAVISTOCK (NZ) - HARMONY (NZ)

GRANT BUCKLEY
ETHAN ENSBY
$101.00
54.0kg
14th
15. MISTER MAKER (AUS) 7yo G


EXCELLENT ART (GB) - EIGHT LIVES (AUS)

JON GRISEDALE
CATHERINE INWOOD
$201.00
54.0kg
15th
8. SATONO RASEN (JPN) 8yo G


DEEP IMPACT (JPN) - TOUPIE (GB)

MITCHELL BELL
CHRIS WALLER
$8.00
54.0kg