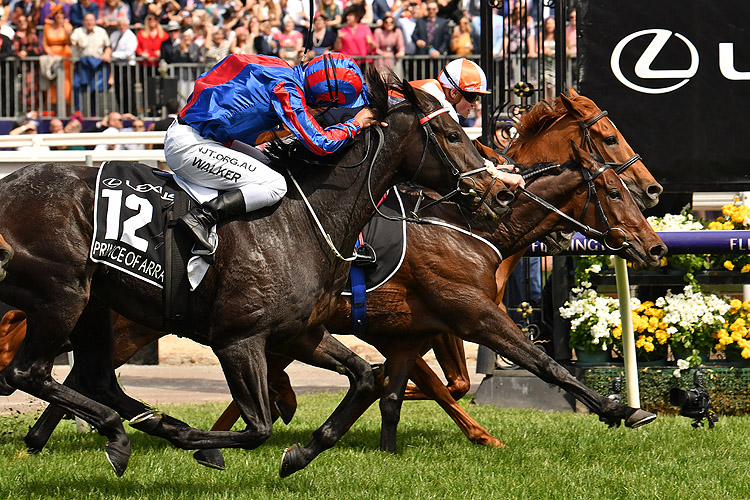 After four days and 487 runners (down from 507 runners last year but bang in line with 2017) another Melbourne Cup Carnival is in the books.
Much of the talk through the week was about things off the track being down - crowds, viewers, turnover - and on the track those 487 posted a median performance of 94, down on last year's 96.25.
It wasn't all down however. Nine horses ran to a Timeform rating of 120 or higher across the four days which is up on recent averages and better than the last couple of years which saw seven runners hit that level.
Last year's carnival was above recent averages on the back of a strong top-end talent. 31 horses ran to 115 or higher in 2018 and 2019 went as close as possible to matching that feat with 30 hitting the mark.
This top end talent is perhaps best viewed broken down by distances and we will start with the category that the week is all about.
STAYERS:
15 of our 30 over 115 came in the stayers category where the biggest prize of all, The Melbourne Cup, was won by Vow And Declare who landed what had long looked an unlikely win for the home team.
Vow And Declare only had to match his Caulfield Cup rating of 117 to land the spoils in a muddling race where a bunched finish contained five horses that posted a higher rating than the winner.
Last year's winner Cross Counter ran to 124 and posted the best staying performance of the week, narrowly ahead of the luckless Il Paradiso who ran to 122 with the start, the middle, and the end all going against him.
No Cup winner has been rated lower than 117 since Brew back in 2000, and only three times in the last 40 years (all run on soft or heavy ground) has The Cup taken longer than this year's 3:24.76 to run, but Vow And Declare has a much more promising profile and the future should be fairly bright.
Irish stayers, Downdraft and True Self , beat Carif on consecutive Saturdays, running to 118 and 116 respectively, and perhaps we will see more of them in Australia, but one that we certainly will see more of is Shared Ambition , who ran to 116 when winning the 2800m on Cup Day and continues to look a top prospect down under.
He didn't have to improve on his Caulfield win to make it five on the bounce, three in Australia, and the speed he showed in his first win in Australia does point to him not needing the longer trip, even if he does stay. The Sydney Cup is reportedly the immediate target, before returning to Flemington at this time next year, but it's not impossible to think that he makes a mark over shorter before then.
MIDDLE DISTANCE: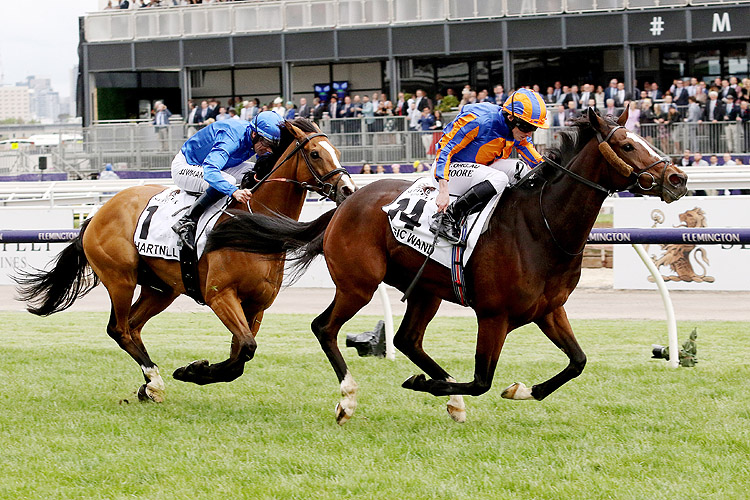 We'll take middle distance to include the three 1800m races with the four run over 2000m of which the Mackinnon was far and away the strongest.
The Mackinnon was won by the globe-trotting Magic Wand , who camped on an even tempo that played into the hands of those closest to it. She camped on both an even tempo and a brave, swan-songing Hartnell, who has lost a couple of lengths but none of his will and succeeded in posting the best middle-distance rating of the week at 122.
Magic Wand, in receipt of 2kgs, ran to 119, matching the rating that she brought down under, while Melody Belle looks an unlucky loser judged by the sectionals, powering home from too far back to run to 117, a pound shy of her Empire Rose-winning mark from seven days earlier. It's easy to think that a career best was in the offing had things gone her way.
For the fourth-placed Life Less Ordinary it was a new career peak and he did it closing strongly as well. It's amazing to think that Life Less Ordinary has run five times in Cup Week over the last three years. Perhaps more amazing is that he has posted a new career peak in all three years. Last year he did it when running to 116 finishing second in the Cup Day Plate, a race won this year by stablemate Yulong Prince.
Yulong Prince was a 112-rated Group One winner in South Africa under the name Surcharge, but posted his best effort to date when running to 115 in the Cup Day Plate.
MILERS:
Four ran to a mark of 115 or higher over the mile for the week, and all of them came on the opening day. Fierce Impact ,Fifty Stars and Melody Belle all ran to 118 while three-year-old Dalasan got back on track running to 115 winning the Carbine Club.
Back on track, but still below the level that Super Seth reached in the Caulfield Guineas which has worked out well enough to this point. From the Guineas, as it stands now, Super Seth (118) and Alligator Blood (117) are still seen as the top two, but Dalasan and Kubrick, rated as the best two going into the Guineas, have bounced back to 115 and 114 with subsequent wins, and the best closer (away from the winner) Soul Patch has run to 113 winning the Vase. There's a bit more meat on the bones now.
SPRINTERS:
There is no issue with meat on the bones of the three-year-olds in the sprinting division. The Coolmore was electric this year with Exceedance delivering on the promise that he has shown from the outset by gunning down the high-class Bivouac in a race that was underpinned by the week's best timefigure - by a long way!
Exceedance is now rated 125 and that time hints at there being potentially more to come. He sits equal with the Everest winner Yes Yes Yes and a pound to the good of Bivouac and Castelvecchio atop a warm-looking crop of three-year-olds heading towards the season's halfway mark.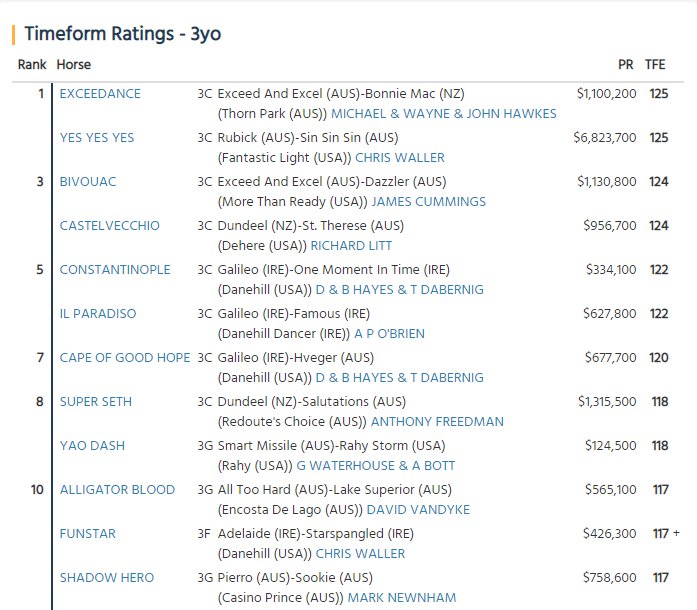 Libertini ran to 114 in third. She has been unable to go on with the blistering 115 rating that she produced first up but the rain around probably played into the hands of the two that beat her home in the Coolmore. She likely would have preferred a race in 1:08 and change rather than the best part of 1:10 where the emphasis starts to flick from speed to strength.
Libertini currently sits behind Funstar (rated 117) and Loving Gaby (116) in the three-year-old fillies rankings but she may still have something to say about that before season's end. Like the colts, they are a hot group.
Loving Gaby was lucky enough to witness the highest rated performance of the week first hand, chasing gamely into a distant second while Nature Strip (now rated 128) found a perfect scenario to use his speed - and he doesn't need to be asked twice.
A steady early section in the VRC Classic compromised the overall time on a windy day at Flemington, but a steady early pace would also compromise the final margin - we'd all finish closer to Usain Bolt over 20m than over 200m.
This only adds merit to the final margin of 3.3 lengths - a winning margin bettered once in the 40 preceeding years by Black Caviar in 2010 and she was 'on' that day. So 'on' in fact, that she produced one of the best timefigures this bright-eyed young analyst ever did see.
Of course, the race was run under handicap conditions up until 2007 and so margins would have been tighter back in the day, but even focusing just on the 12 weight-for-age Classic's before Saturday the average winning margin has been just one length and Black Caviar remains the only horse to win it by further than Nature Strip.
The Classic returned the second fastest timefigure of the week despite that early split which speaks to how quickly Nature Strip picked up off the rolling start.
A rating of 128 is the best produced in Australia this season and will take some beating before season's end. It matches Santa Ana Lane's rating from the TJ Smith earlier in the calendar year and sees them as the best two horses in training in Australia at present.
For the sake of trivia, the best final 600m of the week belonged to Soothing who bettered Nature Strip and Loving Gaby's close with a 32.78 second burst to win the Century Stakes over 1000m.
Soothing ran to 114 and just missed the 30 over 115 group. Also high on the week's final 600m list is the two-year-old Tagaloa who zipped home in 33.39 (sixth quickest for the week) to finish third in the Maribyrnong Plate.
Of course, differing conditions and race distances make this fairly meaningless but we'll take this little fun fact as a hint that Tagaloa has talent and is one of the horses to follow out of the week.