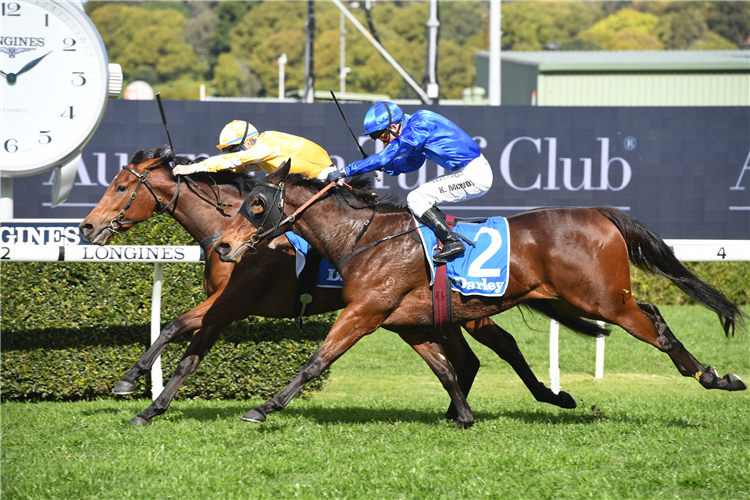 Where are the good fillies?
I'll tell you, she is in Perth, her name is Clairvoyance.
Would she have won the Silver Shadow Stakes? Short answer, yes, long answer quite comfortably.
Click here to read about star filly Clairvoyance
In the last 20 years, Dame Giselle is the lowest rated winner of the Silver Shadow Stakes, well short of what we saw last year.
Rated 105, her performance would have seen her finish fifth behind Libertini, who ran to a figure of 115p.
Searching through the honour role, it is littered with former stars and is the key starting point for a majority of our top class fillies, hence the concern.
If these are the best of what we have at the moment, there is nothing really to get excited about.
Looking down at Victoria, they have little to sing and dance about either.
Do concede the favourite See You Soon was scratched at the gates, but could you confidently say there is much between her and Dame Giselle.
They have already met five times with Dame Giselle leading the ledger 3 Vs 2.
Saturday's race leaves me crying out for new blood, the obvious being the Chris Waller trained Hungry Heart.
Already installed the $4 favourite the Flight Stakes, she gives the impression she will be better at three and judging by Saturday's affair, she shouldn't have too much to worry about.
Rated 105 by Timeform, she looks the pick of the fillies in Sydney (heading towards the Flight), though it certainly leaves the door ajar for something new.
From a betting perspective it does present an opportunity, don't be scared to back something from left field, because the current 'A' grade does appear lacking.
I'd be looking wide if you are playing any futures markets as the ones currently at the top end are far from good things.
There is every chance that they are the best of a bad bunch, however I'm forever the optimist and hoping something, somewhere is waiting in its box, ready to explode.

FP
Silk
Horse, Age & Sex
Sire & Dam
Jockey
Trainer
SP
WT

1st

1. DAME GISELLE (AUS) 3yo F


I AM INVINCIBLE (AUS) - BALLET SOCIETY (NZ)

TOMMY BERRY
PETER & PAUL SNOWDEN
$3.50
57.0kg
China Horse Club Racing Pty Ltd (Mgr: A K Teo) & Go Bloodstock Australia (Mgr: Sir O G Glenn)

2nd

2. THERMOSPHERE (AUS) 3yo F


EXOSPHERE (AUS) - GLOWS (AUS)

KERRIN MCEVOY
JAMES CUMMINGS
$17.00
56.0kg
Godolphin

3rd

8. MISS CANADA (AUS) 3yo F


EXCEED AND EXCEL (AUS) - INGLORIOUS (CAN)

MS RACHEL KING
KRIS LEES
$26.00
55.0kg
Australian Bloodstock (Mgr: L Murrell), J Lovett, Kia Ora 2009 (Mgr: R Rose), J Rourke, Shire Racing, M Coughlan, Squark & Daggy Racing, J Hunter, B Brogan, M Pavlovski, B Howson, D Fekete, C Wemyss, Dynasty Sin City No 4, G Swan, Superglu Syn, R Chow & C Renshaw
4th
6. REDOUTE'S IMAGE (AUS) 3yo F


REDOUTE'S CHOICE (AUS) - TRACY'S IMAGE (AUS)

JASON COLLETT
KRIS LEES
$5.00
55.0kg
5th
5. SEPTEMBER RUN (AUS) 3yo F


EXCEED AND EXCEL (AUS) - PITTSBURGH FLYER (AUS)

JAMES MCDONALD
CHRIS WALLER
$6.00
55.5kg
6th
4. PHILIZZY (AUS) 3yo F


SNITZEL (AUS) - SOVEREIGN DUCHESS (AUS)

REGAN BAYLISS
ANTHONY CUMMINGS
$17.00
55.0kg
7th
10. FALL ON A STAR (AUS) 3yo F


ZOUSTAR (AUS) - IGRAINE (AUS)

BRENTON AVDULLA
KRIS LEES
$26.00
55.0kg
8th
9. HYBRID THEORY (AUS) 3yo F


BRAZEN BEAU (AUS) - BELLE'S READY (AUS)

GLYN SCHOFIELD
BJORN BAKER
$51.00
55.0kg