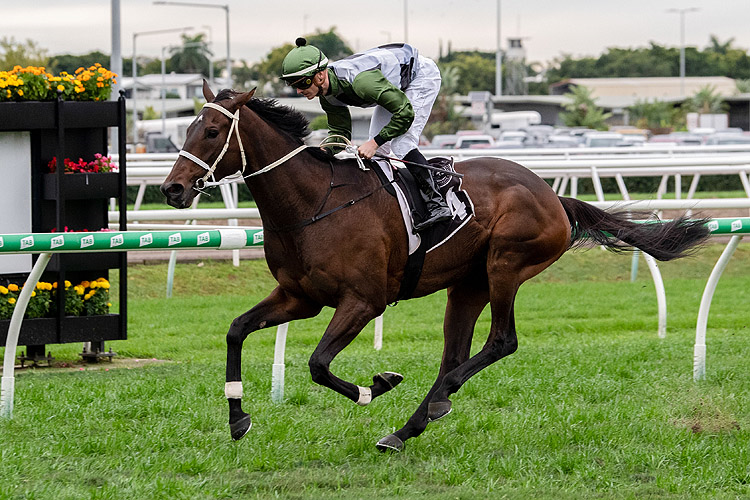 Queensland's Winter Carnival has evolved in recent years to cleverly position itself as launching pad for future stars.
Chris Waller used the JJ Atkins to build the platform for Group One-winning three-year-olds Zoustar, Brazen Beau, Press Statement and The Autumn Sun. Pierata, Melody Belle, Shadow Hero and Aloisia have also used the race to their advantage, practicing, learning and improving in June while others are standing in a paddock.
The Queensland Derby has been more of a stepping stone to Hong Kong, producing the likes of Wether, Eagle Way and Dark Dream, but domestically it did produce a Melbourne Cup winner in Vow And Declare.
And the Oaks produced the most famous of all. Winx went to Queensland having lost six of her last seven. These days it seems a patchy Group win among half-a-dozen losses gets you sent straight to stud packaged up as a weapon. But Winx used that record as a learning curve. In her case, that practice did make perfect.
We often hear trainers praised for their horses improving past a few runs in a campaign but is it the skill of the trainer(s) that keeps horses improving with racing, or is it the racing itself that brings about that improvement? Perhaps a trainer's number one skill is sending their horse to the races. Get out of the way and let them learn from experience.
The 2021 Queensland Winter Carnival will again prove a lauching pad for stars of next season with the two most obvious candidates being Converge and Incentivise.
Converge ran his best race to date winning the Atkins at start number seven - a Timeform rating of 115 as good as any recent Atkins winner bar Rothfire who ran to 117 last year when it was run back over 1400m.
A time series view of his ratings shows a horse with plenty of talent learning to use it. 86-106-103-106-108-110-115. Converge was smart straight out of the blocks, rated 106 after just two starts, but he was much the same, rated 108, after five. It took that racing to draw out the form we saw from him in Brisbane.
He now heads into the spring rated 115 and with a huge base from which to improve again. The Caulfield Guineas is the obvious target for him and for that he already holds a distinct advantage having run hard and fast over the mile three times. Many of his rivals will have their first look at a mile in that Guineas. They may be just as talented - the Guineas typically takes a much better performance than 115 - but they may not be as well prepared.
A similar look at Incentivise makes for interesting reading. Or fairly grim reading if you happened to back him in maidens at Eagle Farm and Toowoomba in March....
55-24-83-77-92-105-107-117
From ratings of 55 and 24, finishing down the track in basic maidens, it was impossible to forecast that Incentivise was six runs away from winning a Group race by the second widest margin since 1979 - the widest being the 1980 AJC St Leger winner Shogun.
For the trivia buffs; Tommy Smith trained Shogun to win the AJC St Leger by 14 lengths under John Duggan and turned around six days later to win the Victorian equivalent. The next widest margin belongs to the great Might And Power who won the 1998 Queen Elizabeth at Randwick by 10.5 lengths. Might And Power being another fine example of a horse learning from the experience of racing and unlocking his true talent through practice.
The spike to 83 when winning his maiden was a clue. It was backed up by a very fast time and three other winners came out from behind him. He dipped back to 77 beating Isabella's Spring by less than a length before beating the same one by over 7 lengths at Toowoomba, the time/sectionals combination alarming this time. A clearer signal of what was to come.
It was still probably hard to foresee exactly what we witnessed on Saturday. The 'what has he beaten' brigade were largely appeased by the towelling of a Metropolitan winner who was a 3x stakes winner over the trip in England and was placed a further eight times in races as significant as the Hardwicke, Princess of Wales' and Great Voltiguer. In the Great Voltiguer he was beaten by 12 lengths by Cracksman.
The how and the why of 117+ was largely answered in our recap of Zaaki and the Doomben Cup - which you can and should read by clicking here - but in brief, the mean squared error is lower at 117 than it is at 116 or 118. It is the most plausible rating given the results.
A rating of 117 probably won't win Incentivise a Caulfield Cup - Railings, Master O'Reilly and Boom Time have won Caulfield Cups this century running to ratings of 117 - but the '+' might.
We won't end on 'probably' and 'might' though. There is no fun in that. And Incentivise is a fun horse. A fun horse that will win the Caulfield Cup just a week after Converge wins the Guineas, both having learned to race by racing. And having done so in Queensland at their star-making Winter Carnival.