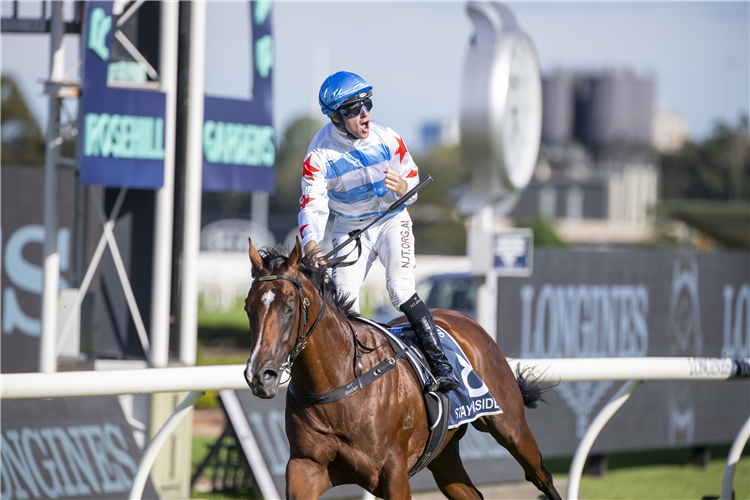 One of the (many) great things about horse racing is the constant regeneration. The game never stops moving, flowing with the seasons and remaining vibrant despite its simplicity - we are just racing horses around a field.
Google tells me that it was wise old punter Heraclitus who told us that no man ever steps in the same river twice and there is no doubt that he was speaking of the evolving nature of racing. Racing's constant regeneration means that the seasons are never the same, but like a river they can appear the same to us and our models.
This season's two-year-olds look familiar. A group similar in style and shape to recent years, with Timeform's Champion Two-Year-Old, Stay Inside, very much in the mould of other recent champions.
Seven of the last ten Golden Slipper winners sat at the top, or equal top, of the Timeform ratings at season's end and the 122-rated Stay Inside will make that eight of the past eleven. It is hard to argue against his Slipper-winning performance being the best of the season having had the winners of the Magic Millions, Blue Diamond, Sires Produce and Champagne Stakes in behind in a well-run race.
The Slipper is invariably won by one of the highest-rating performances of the season by any measure. It is a destination race. The best go there to race the best and subsequently no two-year-old race produces as many future stars as the Slipper.
But, like our crafty old punter Heraclitus' river, the Golden Slipper is just a snapshot in time. Come the spring the river may look the same but things will be different. Barriers made the Slipper task tough for Anamoe and Artorius and late splits show that they will be better on another day. As does their form on other days.
Anamoe sits with Stay Inside in a select group of two that are 3x the standard deviations from the mean of the entire crop. Up in the top bin.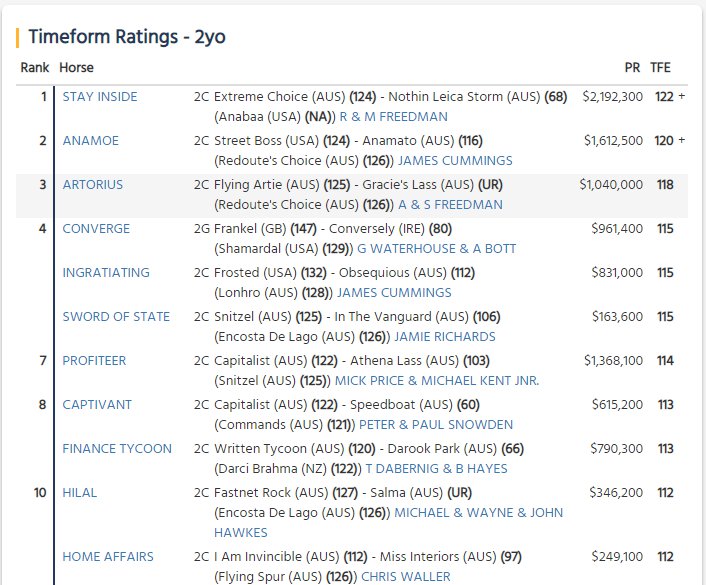 As we've said time and again, judging horses on their single peak performances is hardly ideal. Punters don't do it when assessing races, knowing, either explicitly or implicitly, that horses are better judged as a sum of many parts and performances. Our best solution to this has been to take an array of ratings for each runner and run simulated races, choosing from those arrays at random. For interest's sake; 10,000 races between our top five, taking their top three ratings and weighting towards their peak, comes out as below:

Stay Inside's Slipper peak remains the most important number, and keeps him at the top of the pile by this measure, but the spread of wins below him does give a better view of how things really stand.
Season Recap: 2021 Kiwi Two-Year-Olds
The statistical make up of the crop below that top pair is very similar year-on-year. This group has the same median value, the same spread, and quite remarkably the same number of horses rated 100 or higher - 78.
What is different is the total runners. 2640 two-year-olds stepped out (so far there is two weeks to go) in 2020/21 against 2830 last season. This follows a longer term trend which is some concern.
Fewer runners means fewer stars; assuming a fairly constant runners-to-stars ratio. Go back to the 'super crop' of 2011/12 and 25 runners were rated 110 or higher but from a wider net of 3118 runners. There have been just 14 and 15 in the past two seasons.
Fewer runners also dilutes competition and new races/options popping up by the day only compounds this. It is from competition that these stars are forged. Races don't create horses. Horses create races.
Fillies are a notable omission from the top ten. There isn't a single one there, and even a cursory glance of the season gone will show them to have been a poor subset within a subset.
They won none of the major races they contested against the boys and not only that, they didn't get close. None in the top five in the Diamond. Just two in the first eleven home in the Slipper where Four Moves Ahead did best in fourth. She was the pick when again (a distant) fourth in the Sires and fillies were no better than eighth in the Champagne. Of 14 runners in the Atkins, fillies could provide just one. To be fair, Invinsible Tears ran well in fourth. But it rounded out a season where the girls didn't notch a single placing in the five Group Ones.
When horses are racing in their own cluster it can be easy to fall into the mindset that everything is wonderful. Good crop or bad crop, there will be a Slipper winner, a Diamond winner and a Sires winner, all of which can be cheaply praised.
This season's three-year-olds include a Slipper winner, a Diamond winner, a Golden Rose winner et al, but they were relatively rubbish. There were a couple of promising performances early on but soon times and form hit the alarm button. "Warning. We could be no good here!" Then they started to step outside their bubble and bang. 1.5 G1 wins against their elders. Instant Celebrity and Portland Sky picking up that feeble 1.5 in low-rating Group Ones.
But that is okay. In fact, it might be better than okay, for it is interesting. And it is worth pointing out when something is objectively rubbish as it makes us appreciate when things are really good all the more.
This season's two-year-old fillies, headed up by the 111-rated Enthaar and the 107-rated Four Moves Ahead, were ordinary. And that is interesting - interesting to see whether they can do better at three. They could hardly do much worse.
Meanwhile, the colts and geldings are perfectly poised heading into the new season. There are stars well established at a good level and with the foundations to go higher still.
To do so will require meaningful clashes. Punters and race fans are right to demand competitive racing, interesting betting, and meaningful sport. It is these meaningful clashes, season-to-season, that keep the Great Game flowing.